Adult learning workshops
New workshops for autumn/winter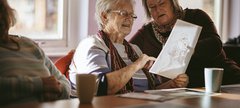 Until Wednesday 20 November
Our adult learning season features a variety of workshops, you are welcome to join us for as many as you like.
Dates
Fridays/Wednesdays
See individual events for dates below
Time
Each attendee with take part in two workshops: one at 10am-12.30pm and then 1-3.30pm.
Price
Price includes two workshops as above.
Each day ticket is £10 which covers the cost of all materials and tuition costs.
Booking
Workshops must be booked in advance. Please follow the individual event listings to pre-book.
This Autumn Winter the Shipley is hosting a line-up of workshops as part of our adult learning season. Choose from:
Creative Textile Day ('Manipulated & Knotted') // SOLD OUT
Wednesday 16 October, more info here>>
Creative Skills Day ('There's no place like home')
Friday 8 November, more info here>>
Christmas Crafts Day // SOLD OUT
Friday 15 November, more info here>>
Paper Craft Day ('Twisted & Hidden')
Wednesday 20 November, more info here>>

---
You will need to provide your own packed lunch however there will be refreshments provided in morning and afternoon breaks.