With Muddy Fingers Pottery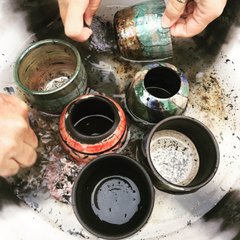 Time
10.30am - 1.30pm
Price
£50 plus booking fee
Booking
Pre-booking essential. Book here
Glaze three pots (handmade by Muddy Fingers ceramicists) and fire them using the exciting technique of raku.

Using various bespoke Muddy Fingers glazes and different glaze resist techniques, you will paint up your pots ready to be fired in the Raku kiln. The pots get fired until the glaze melts at around 950 degrees Celsius. They are taken out of the kiln at that top temperature and placed into a tightly covered sawdust bin for the post reduction magic to happen.

Lots of copper, silver and bronze colours will develop at this stage. Once cooled down a little, they are taken out of the bin and placed into a bucket of water for final cooling and ready to clean down. The pots are then dried and ready to take home the same day.

Please wear clothing that you don't mind smelling of smoke. Please ensure limbs and feet are covered. This workshop takes place partly outdoors so please dress for the weather. If you have any mobility issues please get in touch as we can provide stools for the outdoors aspect of the workshop.
Suitable for ages 16+.