KS3, KS4 and KS5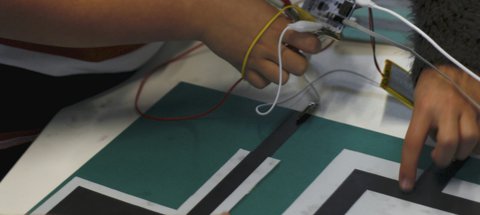 Duration: 2 hours
Times: 10am - 12noon or 1pm - 3pm

One off opportunity

Cost: £150 per group
Capacity: 25 children per group.
Join FutureEverything and artist Sam Meech for a one off an interdisciplinary workshop exploring art, new media, technology and design at the Shipley Art Gallery.
Students will have the opportunity to design and cut their own punch-card patterns, transform them into music using simple Ruby commands in Sonic-Pi and experiment with a digital knitting machine to knit together their patterns with conductive yarn. The patterned pieces will then be connected through Raspberry Pi and Bare Conductive Pi Caps to create a touch sensitive musical material.
This hands-on session is perfect for students interested in design processes, textiles and computation and requires no prior knowledge.