POSTPONED: Creative Baby
The Shipley is CLOSED from 19 March-30 April 2020 following COVID-19 advice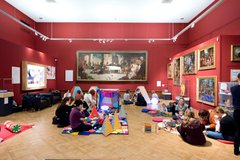 Events postoned
Following new advice in response to the COVID 19 pandemic and in line with other cultural organisations, we have taken the difficult decision to close Shipley Art Gallery from 4pm on Wednesday 18 March.
This is provisionally until 1 May 2020 but we will be reviewing the situation and updating if anything changes.
Please sign up to our emails at mustseemuseums.org.uk and check our social media channels and website so we can keep you up to date with what's going on.
Thank you for your support and understanding at this challenging time. Stay well and we look forward to welcoming you back in due course.
---
Time
10.30-12pm (drop in)
Price
£5 per baby per session (accompanying adults free.)
CREATIVE BABY! SENSORY PLAY

The age range has been extended to include babies up to 18 months.
Once a month, the gallery is transformed into an imaginative sensory play space. Explore dens, lights, mirrors, music and interesting objects, and relax amongst the exhibitions. The play space is different every time, so there are always new things to discover.
The play space has been designed to appeal to babies from newborn to 18 months, and caters for all stages of development.
Set in our main exhibition space, this is a great way to introduce your baby to the magic of art galleries, and relax and socialise amongst the exhibitions.
There is no need to arrive for a set time and you can bring as many adults as you like, at no extra cost.