Sensory play with interactive exhibition activities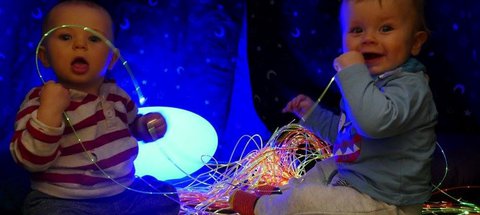 Time
1pm - 2.30pm
Price
£5 per baby per session.
Booking essential.
Book
Creative Baby! is for babies from newborn to 12 months, with activities designed especially for babies who are not yet walking. With each session themed around our exhibitions, this is a great way to introduce your baby to art galleries.
NEW for 2018:
CREATIVE BABY! SENSORY PLAY WITH INTERACTIVE EXHIBITION ACTIVITIES

The interactive exhibition activities will introduce babies and their grown-ups to the artwork on display and we will discover some of the Shipley's collection of art and design through movement, sound and touch.
Each activity will focus on a different theme found in the artworks. This theme continues in the sensory play space, which you can explore independantly. Make your way around this relaxing, creative space at your own pace, enjoying dens, lights, textures, mirrors, music and more with your baby.
The sensory play space is inspired by the artworks and is a bit different every time. It's in the main gallery, making it easy for you to explore the exhibitions with your baby while you're here.
Each session offers lots of exciting opportunities for playing, learning and enjoying the gallery together.