Part of our adult learning workshop season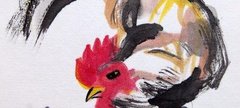 Time
Each attendee with take part in two workshops: one at 10am -12.30pm and then 1 - 3.30pm.
Price
Price includes two workshops as above.
Each day ticket is £10 which covers the cost of all materials and tuition costs.
Booking
Pre-book online here
Join us at the Shipley Art Gallery for a season of adult learning workshops in a wide variety of art and craft techniques.
You will need to provide your own packed lunch however there will be refreshments provided in morning and afternoon breaks.
Painting roosters in watercolour and pen: 10am - 12.30pm
Learn to paint some vibrant and lively characters in watercolour using a fun and exciting wet-on-wet technique. Watch the colours spread and mix on the page to create some beautiful effects, and add the final finer details with ink pens. You will love the results!

Chinese Watercolour birds: 1 - 3.30pm
Chinese brushwork with inks and rice paper, with artist Jayamini Da Silva.