Sold out: Creative activities during October half term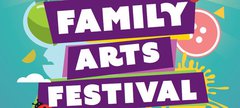 When
Tuesday and Thursday in October half term.
Time

10.30am- 12 noon and 1.30 – 3pm.
Price
Participating child: £3 (plus booking fee)
Participating adult: £3 (plus booking fee)
Younger siblings can attend. Babes in arms or non participating siblings / adults are free (but need a ticket). Please note that you will be supplied with art materials only for the number of people in your party who have a participant ticket.
Booking
Pre-booking essential. Book your tickets here.
Age
Age recommendation: 4+.
Younger siblings are welcome and 4+ is a rough guide for when children will be able to take part in the designed activity. For younger siblings, please purchase a participant ticket (£3) if you wish them to be supplied with art materials to join in with the activity. Alternatively you can purchase a non participant ticket (free) which means they will be admitted but don't receive materials to take part.

⭐ Family Art Festival is back for October half term! Join us for fun and creative activities inspired by painting, textiles, ceramic and glass artworks on display. Make something different each session, all themed around autumn and linked to the Shipley's exhibitions. ⭐
Tuesday 26 October
10.30am - 12 noon (sold out)
1.30 – 3pm (sold out)
Autumn Days
Learn different water colour techniques to create your own water colour painting. Use the beautiful landscape paintings in the gallery as inspiration to create an atmospheric Autumn landscape.
Get creative with collage and fabrics to create your own Autumn wreath.
Thursday 28 October
10.30am - 12 noon (sold out)
1.30 – 3pm (sold out)
Clay Creations
Explore the gallery for inspiration of vases, bowls, sculptures and more. Can you find our ceramic dog? Or other animals in the gallery. Use clay to create your own clay creature. Or be inspired by our ceramics collection to make your own clay creation. While your clay dries use inspiration from the gallery to decorate your own ceramic pumpkin.