Family Arts Festival
An exciting series of creative activities all summer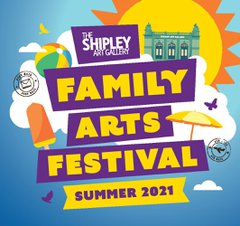 When
Every Tuesday and Thursday in the summer holidays (27 July – 2 September 2021)
Thursday sessions will be supported by a Gateshead artist.
Time
10.30am- 12 noon and 1.30 – 3pm.
Price
Participating child: £3 (plus booking fee)
Participating adult: £3 (plus booking fee)
Younger siblings can attend. Babes in arms or non participating siblings / adults are free (but need a ticket). Please note that you will be supplied with art materials only for the number of people in your party who have a participant ticket.
Booking
Pre-booking essential. Please see booking links next to each activity below.
Age
The activities on Tuesdays are recommended for age 4+.
The activities on Thursdays are recommended for age 6+.
Younger siblings are welcome and 4+ is a rough guide for when children will be able to take part in the designed activity. For younger siblings, please purchase a participant ticket (£3) if you wish them to be supplied with art materials to join in with the activity. Alternatively you can purchase a non participant ticket (free) which means they will be admitted but don't receive materials to take part.

⭐ Join us for fun and creative activities inspired by painting, textiles, ceramic and glass artworks on display. Make something different each week, all themed around summer holidays and linked to the Shipley's exhibitions. ⭐
We have HUGE line-up of events including:

Tuesday 27 July
Book 10.30am - 12pm / sold out
Book 1.30 – 3pm / sold out
Pack a bag for your summer adventures!

Visit the ceramics, glass and craft displays, where you'll discover bold, abstract patterns. Take inspiration from the colours and designs, and decorate your own bag and accessories. Design and decorate your own drawstring backpack using fabric pens – perfect for taking on daytrips and picnics this summer. Decorate your own keyring to accessorise your bag. Why not bring your bag to future sessions so you can carry your crafts home safely.
Thursday 29 July
Book 10.30am - 12pm /last 2 tickets
Book 1.30 - 3pm / sold out
With artist Corinne Lewis-Ward
Join Corinne to create art inspired by Paul Scott's artwork, 'Gateshead in a Box' and create your own unique design on a ceramic tile to take away with you. Corinne is an artist and designer with her own business Powder Butterfly, creating unique and bespoke design objects.
Tuesday 3 August
Book 10.30am - 12pm / sold out
Book 1.30 - 3pm / sold out
Check the weather!
Visit the landscape and seascape paintings, which illustrate all kinds of weather. Make your own decorative weather mobile to hang up at home. Use oil pastels and watercolours to draw different types of weather, and attach them to a hoop using string. Hang it up at home and watch the clouds drift overhead.

Thursday 5 August
Book 10.30am - 12pm / sold out
With artist Shiori Naruse
Join Shiori to create your own wallpaper repeat pattern or placement print using traditional hand-drawn techniques inspired by patterns found in the Design section at the Shipley. Shiori Naruse is a print and pattern designer with her own design label Naruse Design. Come view her wallpaper samples and create a design which is unique to you.
Tuesday 10 August 
Book 10.30am - 12pm /sold out
Book 1.30 - 3pm / sold out
Beach trip! 
Visit the seascape paintings and spot ships and big waves; then get creative making some fun beach toys. Decorate a miniature bucket and spade, and make a paper windmill to adorn your sandcastles. You could take your toys to nearby Saltwell Park (a few minutes' walk from the gallery) to play in the sandpit. Your bucket can also be used as a pen pot or plant pot at home. Before heading Saltwell Park with your bucket and spade, visit our exhibition about the Saltwell Park Museum too. Here you'll discover how the Shipley Art Gallery began, and find all sorts of unusual objects, including a crocodile!  
Thursday 12 August
With artist Liam Scarth
Liam is an actor and community theatre maker. Join Liam in this interactive writing workshop, where you will learn a little about the art of giving and the joy of creative letter writing inspired by the Saltwell Park Museum collection. There will be games to get those ideas flowing, as well as a chance to share your creativity with someone new…they might even be your next new friend!

Tuesday 17 August
Book 10.30am - 12pm / sold out
Book 1.30 - 3pm / sold out
Time for an ice cream! 
Visit the still life exhibition to see how delicious food has been depicted by artists through history. Make a giant ice cream using paper and card, to hang on your wall or display in your window.  Make your own beach café menu with collaged pictures of delicious ice creams – perfect for playing cafés at home. 
This event is part of our #WaysToPlay series.
Thursday 19 August
Book 10.30am - 12pm / sold out
Book 1.30 - 3pm / sold out
With artist Alex Sickling
Alex Sickling is an illustrator and ceramicist. Join Alex to explore the Shipley's ceramic collection and create your own wonky ceramic pinch pots and wiggly Lambton Worm inspired ornaments. Exploring themes of local folklore, inspired by Philip Elgin's ceramics, you will use found and recycled materials to explore mark making and texture and bring the myth of the Lambton worm to life!
Tuesday 24 August 
Book 10.30am - 12pm / sold out
Book 1.30 - 3pm / sold out
Stay cool with sunhats and sunglasses! 
Be inspired by textile artworks to create your own colourful summertime accessories. Decorate your own baseball cap and make your own sunglasses, using scratch art and fabric pens. Guaranteed to make you feel totally tropical, whatever the weather! 
Thursday 26 August
With artist Paul Raymond
Paul Raymond is an artist whose artwork ranges from kinetic sculptures, site-specific installations to drawing, collage, video and performance works. Join Paul to make and decorate a "surprise egg", inspired by the James Renforth Memorial Egg in the Saltwell Park Museum exhibition at the Shipley. After exploring the artwork, objects and curiosities in the collection, you will have the opportunity to draw pictures, use collage techniques and make patterns to decorate your egg. The collection also contains natural specimens so you will use modelling skills to create a surprise creature hatching from your decorated egg.

This event is part of our #WaysToPlay series.

Tuesday 31 August 
Book 10.30am - 12pm / sold out
Send a postcard! 
Be inspired by the landscape paintings on display, and paint your own real or imagined summer scene. Make your own series of postcards using watercolour paints, and write a message to your friends or family. You'll create a triptych – a painting made up of three parts. Send your postcards to someone you love, and they can put them together like a jigsaw to reveal your painting.  
Thursday 2 September
With artist Helen Donley
Join Helen from Northern Print and have a go at making your very own dry point engravings. All the materials and tuition will be provided and as we will be in the gallery you can use the paintings around you as inspiration. You will engrave your image, ink it up and print it on an etching press. You'll be taken through the whole process and can ink up and print in a variety of colours and take your finished prints away with you. Northern Print is the centre for excellence in printmaking in the North East of England.