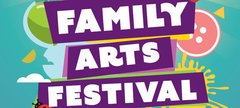 Time
Sessions between Tuesday 26 July - Thursday 28 August: 10.15- 11.30am; 12-1.15pm; 2-3.15pm

Sessions between Tuesday 23 August - Friday 26 August: 10.30 - 11.30am; 11.30am - 12.30pm; 1 - 2pm; 2 - 3pm

Tuesday 30 August and Thursday 1 September: 10.15 - 11.30am; 12pm - 1.15pm, 2 - 3.15pm

Price
Participating child: £3 (plus booking fee)
Participating adult: £3 (plus booking fee)
Younger siblings can attend. Babes in arms or non participating siblings / adults are free (but need a ticket). Please note that you will be supplied with art materials only for the number of people in your party who have a participant ticket.
Booking
Pre-booking essential, book online here
Age
Recommended for age 4+ with adult help.
Please note: these are not taught classes, but an opportunity to get creative under your own steam. A member of our friendly staff will be on hand to show you example pieces, demonstrate how to make them, and answer questions. Everyone with a participant ticket (£3) will receive art materials to enable them to make the items listed below. People with non participant tickets (free) will be provided with a seat but not art materials.
Back for the school holidays, we will be running our popular Family Art Festival. Join us at the gallery for fun and creative activities inspired by the paintings, textiles, ceramic and glass artworks on display, as well as The Lindisfarne Gospels, which will be on display at the Laing Art Gallery from 17 September - 3 December 2022.
Line up:
---
Tuesday 26 July: Summer Sketchbooks

Book 26 July / Sold out
Sketching is a great way to record your visit to a museum or gallery. It can help you remember what you've seen, and inspire you to create your own original artworks. Artists often work in this way, and this is your chance to have a go too. This session is designed to get you feeling confident about sketching in galleries and museums. On arrival, you'll receive an Artist's Kit, consisting of a sketchbook and a range of drawing materials - these are yours to keep. There'll be written prompts to help you explore the exhibitions independently. When you see something that catches your eye, we encourage you to draw it in your sketchbook, building up a unique record of your gallery visit.
In this session you'll be exploring the whole gallery. Rather than sitting at tables, you'll take your Artist's Kit around the gallery with you, and sketch wherever you like. Sprawl out on the floor and create your own sketches inspired by the exhibitions and the gallery itself. Lightweight folding stools are also available, and there's some fixed seating in the gallery.
After this session, the Artist's Kit is yours to keep. Take it with you when you go out this summer, and build up your own visual record of what you see. You could visit other galleries and museums, and sketch the exhibits; try sketching outdoors; or create portraits of people you spend the summer with. Every sketchbook will be unique!
---
Thursday 28 July: Clay Characters

Use air drying clay to sculpt a character from your imagination. Find inspiration in the many artworks depicting human and animal figures, and make a unique artwork to take home.
Make your 'Ways to Play' adventure a great value day out by travelling to our venues by the Metro and / or Ferry. Up to three children aged 11 and under can travel for free on the Metro and the Shields Ferry with a fare-paying adult. Metro is the convenient, fast and frequent way to get to your favourite attractions and now it's even more affordable. Find out more.
Ways to Play is sponsored by Tyne and Wear Metro.

---
Tuesday 2 August: Decorate a fabric bag

Book 2 August / Sold out
Decorate your own fabric bag, inspired by the patterns and textiles on display at the Shipley. Create a beautiful piece that you can take with you wherever you go this summer!
---
Thursday 4 August: Decorate a ceramic tile

Book 4 August / Sold out
Decorate a ceramic tile to take home and display with pride. Be inspired by the ceramic works on display including Paul Scott's 'Gateshead in a Box' (2011). Make a ceramic tile depicting where you live, or something you love.
---
Tuesday 9 August: Landscape painting
Use watercolour paints and watercolour pencils to create your own landscape painting. Take inspiration from the paintings in the gallery depicting landscapes of the North East and further afield. Perhaps you'll paint somewhere familiar, somewhere you'd like to visit, or somewhere from your imagination. Make a preparatory sketch, then a final piece on rigid watercolour board to display at home.

---
Thursday 11 August: Experimental Drawing
Get experimental with drawing techniques, and create some surprising artworks together.
We'll provide a range of prompts to get you drawing in different ways: Think drawing with your eyes shut, drawing with both hands, quick-fire drawing, and whole-family drawing. You'll be provided with a range of drawing materials such as pastels, charcoal and pencils. Have fun and surprise yourself, as you discover the many forms drawing can take.

---
Tuesday 16 August: Lino printing
Have a go at lino printing. You'll engrave your design into a polystyrene sheets, using a pencil. Then ink it up with paint and press it onto paper by hand. Take inspiration from the artworks on display and create a series of unique prints to take home.

---
Thursday 18 August: Make a mosaic
Book 18 August / Sold out
Create your own mosaic inspired by the artworks on display. Press pre-cut mosaic pieces into a slab of air drying clay to create your own unique design. There are plenty of patterned artworks in the gallery to inspire you.

Please note, this activity involves small parts (mosaic pieces) and close supervision of children is required.
---
Tuesday 23 - Friday 26 August: Giant Drawing!
Book a session between Tuesday 23 August - Friday 26 August
The Lindisfarne Gospels, the most spectacular manuscript to survive from Anglo-Saxon England, will be on display at the Laing Art Gallery from 17 September to 3 December 2022, on loan from the British Library.
Join us to celebrate it by creating an enormous drawing together. A long roll of paper will be spread across the gallery floor. Grab some drawing materials and get creative on a huge scale! Together, we'll create unique designs and patterns, inspired by Lindisfarne Gospels. Experiment with different drawing materials and help make a huge artwork for all to see. There'll also be the opportunity to make your own smaller drawings to take home.
The giant drawing will adorn the gallery floor from Tuesday 23 - Friday 26 August.

---
Tuesday 30 August & Thursday 1 September: Stained Glass Tealight Holders

Book a session between 30 August - 1 September
Decorate glass tealight holders inspired by the designs on The Lindisfarne Gospels. Inspired by this 'illuminated' manuscript, we'll be getting creative with light and colour. You'll use special pens to decorate a glass tealight holder. All materials will be provided and there will be examples to inspire you in decorating your tealight holder.