Work with a glass artist to create beautiful fused glass hangings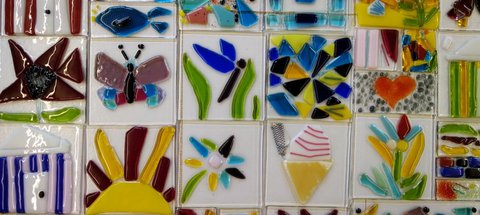 Time
10am - 12pm
Price
£15.00 for 1 child & 1 adult working together
Book
Book online


Information
Workshop suitable for children 6+ and their grown-ups
No experience of working with glass needed

Create your own pictures using pieces of Bullseye glass with guidance from experienced glass artists.
After creating a design, your glass artwork will be taken to the artists' studios to be fired in kilns to create your beautiful fused glass hanging to keep.
Materials and equipment are provided. Artwork taken away to be fired will need to be collected at a later date from the Gallery.
This session is for children and their adults to have a go together. No experience of working with glass needed.