Start with a blank canvas and sip and party your way to a one-of-a-kind masterpiece.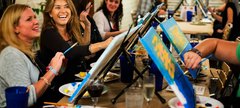 Time
2.30 - 4.30pm
Price
£19.95 each
or £79.80 for 5 people (5 for 4)
Booking
Pre-booking essential. Book your tickets
Please note this event is organised by an external company. If you have a query please contact paintandsippartyuk@gmail.com.
Unleash your creativity and paint your own masterpiece in a fun and casual group environment. Beginners welcome.
We provide all the materials (canvas, apron, paint, easel etc), music, and lots of creative fun. There is a choice of over 150 paintings and our expert artists will help you when required until you have finished your masterpiece that you can keep forever. A unique and creative activity for all and great for celebrating any special occasion.