POSTPONED: Slow Art Day 2020
The Shipley is CLOSED from 19 March-30 April 2020 following COVID-19 advice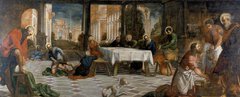 Time
10am-5pm
Facilitated discussion around Tintoretto's 'Christ Washing the Disciples' Feet' will take place at:
11am-12pm
1-2pm
2-3pm
Price
Donations welcome, free entry
Booking
Booking not required, drop in
For International Slow Art Day, come along to the Shipley and spend some time with our collection. The Shipley's main gallery space will be laid out to allow you time to sit, look and reflect on our painting collection. There will be opportunities to think about the collection and discuss what you have discovered with other members of the public and staff.

There will be set times during the day to meet your host who will support you in discussing the Shipley's largest painting, 'Christ Washing the Disciples Feet' by Tintoretto. These times will be
11am-12pm
1-2pm
2-3pm
Just drop in at these times and meet at the shop entrance.
This is part of a series of events exploring the Tintoretto painting 'Christ Washing the Disciples Feet'. Look out for more events on the Shipley website and social media.