POSTPONED: Tintoretto and a Tale of Two Cities
Book now
The Shipley is CLOSED from 19 March-30 April 2020 following COVID-19 advice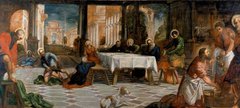 Events postoned
Following new advice in response to the COVID 19 pandemic and in line with other cultural organisations, we have taken the difficult decision to close Shipley Art Gallery from 4pm on Wednesday 18 March.
This is provisionally until 1 May 2020 but we will be reviewing the situation and updating if anything changes.
Please sign up to our emails at mustseemuseums.org.uk and check our social media channels and website so we can keep you up to date with what's going on.
Thank you for your support and understanding at this challenging time. Stay well and we look forward to welcoming you back in due course.
---
Time
1-2pm
Price
£4 per person (booking fee applies)
Booking
The Shipley Art Gallery is home to one of the most significant masterpieces by Tintoretto. This work by one of Venice's great artists is actually one of three versions: a second well-documented version hangs as a prized work at the Prado Museum in Madrid; and a third version is displayed at the Art Gallery of Toronto. Much speculation has gone into the authenticity and chronological order of these three paintings, particularly the Shipley and Prado versions which are the most similar in size and composition.
The original oil painting of Christ Washing the Disciples' Feet, by Jacopo Tintoretto was painted in 1547 for the Church of San Marcuola in Venice. It marked an important departure in style from Tintoretto's earlier works and very quickly attracted the attention of collectors, which accounts for its popularity and the fact that the artist was asked to reproduce it. By 1648 it was purchased from the Church of San Marcuola and replaced with a copy by the painter Carlo Ridolfi.

Conservator Ana Flynn-Young had the opportunity to visit The Prado Museum in Madrid to meet with conservators and researchers who had been studying Christ Washing the Disciples' Feet.
Tyne & Wear Archives & Museums is also working in Partnership with Charis Theodorakopoulos from the Conservation Department of Northumbria University to do a technical study of the painting. It is hoped that by studying both paintings and comparing analysis, we may be able to gain insight into their construction and order of production.
This talk will share some of the insights gained so far in our study and our future research.