Gateshead History Festival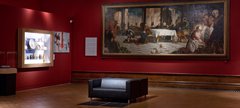 Untold Stories is part of Gateshead History Festival
Time
10.30-12.30pm

Price
£3 per person
Booking
Pre-booking required. Book your tickets
Tintoretto and a Tale of Two Cities
Delivered by Ana Flynn-Young, Conservation Officer, Tyne & Wear Archives & Museums
Displayed at the Shipley Art Gallery is one of three versions of the most significant masterpieces of one of Venice's great artists Tintoretto, "Christ Washing the Disciples' Feet". Originally painted in 1547 for the Church of San Marcuola in Venice, find out how it ended up in Gateshead and the work our Conservation Officer, Ana Flynn-Young has been undertaking to find out how it was constructed and the mystery of who owns the original painting.
Shipley Art Gallery 'Behind the Scenes' tour
Led by Shipley staff
After the talk you will be invited on a behind the scenes tour of the Shipley Art Gallery to find out about the history of the Shipley and see some of the art and craft currently not on display. Please be aware that not all of our stores are fully accessible. Please contact us in advance if you have any questions.
---
Contact us: info@shipleyartgallery.org.uk