Our collections
Fine Art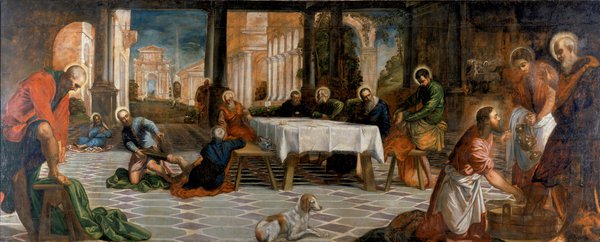 Christ Washing the Disciples' Feet by Jacopo Tintoretto

The Shipley Art Gallery is widely recognised as having one of the UK's finest collections of Dutch and Flemish 16th and 17th century paintings. It also has an important collection of Victorian paintings, together with works of more regional and local interest.
The Dutch and Flemish collections include works by Joachim Wtewael, Hans Shaufelein, Abraham Janssens, Benjamin Cuyp, Jacob Grimmer and Jan van der Heyden. The Shipley also has a small group of Italian, German and French paintings including artists such as Michaelangelo di Campidoglio, Johann Loth, Jan van Kessel, Edouard Bisson and Charles Landelle.
The British paintings are mostly 19th century, strong on landscapes, genre subjects and include some portraits. Notable works include Redgrave's The Poor Teacher and Atkinson Grimshaw's Whistlerian Greenwich – Half Tide. There are also significant paintings by John Linnell, Frederick Mason Sheard, John Robertson Reid, David Wynfield, Neils Lund, and local artists Thomas Miles Richardson snr, Ralph Hedley and H.H. Emmerson. Twentieth-century works include pictures by Winifred Nicholson and Norman Cornish.
An outstanding work is the major painting by the Venetian artist Jacopo Robusti Tintoretto (1518-1594). On display in the main gallery, Christ Washing the Disciples' Feet was originally painted for the church of San Marcuolo in Venice, eventually given to St Nicholas' Cathedral in Newcastle and purchased by Tyne & Wear Museums in 1986.
The Blaydon Races by William C Irving (1866-1943) illustrates one of the most celebrated sporting events in the North East's history, the 1862 meeting made famous by the song called 'The Blaydon Races', written by the Tyneside music-hall singer Geordie Ridley. The painting was purchased for the gallery in 2002 with significant funding from the Heritage Lottery Fund and other public and private gifts and donations.
The fine art collections also include watercolours, prints and drawings and sculpture.
*Please note that not all of our paintings in the collection are on permanent display. Should you wish to see a specific painting, please contact us on (0191) 477 1495 or email: info@shipleyartgallery.org.uk
Craft and Design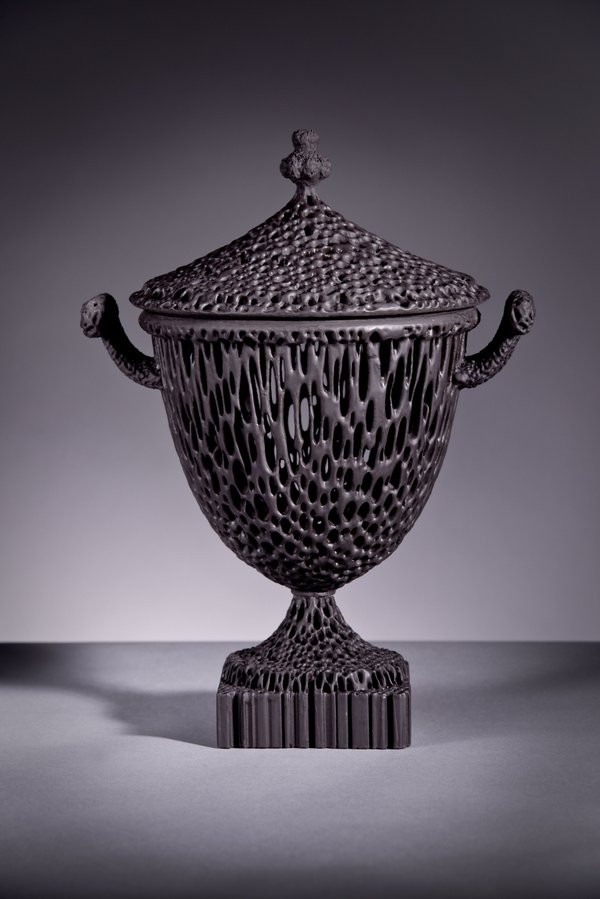 Wedgewouldn't Tureen by Michael Eden

The Shipley's craft and design collections are wide-ranging and most significantly include one of the UK's most important and largest collections of contemporary craft and the UK's most comprehensive collection of Sowerby's and Davidson's glassware.
The Shipley Art Gallery's craft and design collection began in 1977. Dynamic and courageous acquisitions are at the heart of this pioneering collection, with makers identified and purchased prior to their representation in other public collections. In addition, new acquisitions have represented emergent themes within contemporary craft and design practice.
The Shipley collects craft by British makers that demonstrate innovation, experimentation and technical excellence. The gallery prioritises work which blurs the boundaries between the crafts and other art disciplines.
Experimentation is represented across the collection with work by makers linked to the New Jewellery movement such as Julia Manheim and Pierre Degan. In ceramics, an early piece by Daniel Fisher displays his daring use of porcelain, to which he adds a fine polyester fibre. Other experimental makers in the collection include Robert Marsden, Peter Chang, Fred Baier and Alison Britten.
Technical excellence is explored throughout the collection and examples of makers that represent flair, dexterity and a mastery of materials include, in glass ; Keiko Mukaide, Danny Lane and Bruno Romanelli, in ceramics; Lucie Rie, Hans Coper, Martin Smith, Halima Cassell and Kate Malone, in metal;, Hiroshi Suzuki, Michael Lloyd and Junko Mori and in textile; Audrey Walker, Paddy Killer and Dinah Prentice.
Makers who address contemporary issues are also represented in the collection. Glass artist Sally Fawkes responds to divisions in society. Her piece Anonymous Connections is riddled with complexity, mirrored planes and angles. Assault and Battery, a PVC quilt by Michelle Walker was made in response to poultry factory farming methods. Other makers in the collection that interrogate modern living include ceramicists Stephen Dixon and Lubna Choudhary and glass artist David Reekie.
The Shipley has championed new makers who have later become synonomous with excellence in the crafts such as Micheal Rowe, Martin Smith and Ndidi Ekubia. The Gallery has also supported established makers, acquiring work at different stages in their careers.
More recent acquisitions deliberately explore the boundaries between craft and design, and craft and fine art. These include works by Michael Eden, Nicholas Rena, Emma Woofenden and Barnaby Barford.
Collecting contemporary craft has been supported over many years at the Shipley by the Art Fund, the Northern Rock Foundation and the V&A Purchase Grant Fund.
Henry Rothschild Study Centre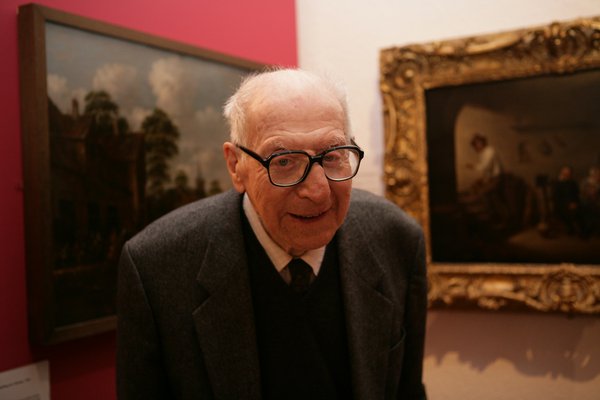 The late Henry Rothschild (1913-2009)
The Henry Rothschild Study Centre presents a superb collection of 20th century craft and design amassed by Henry Rothschild between the 1940s and 2006.
The collection includes work by leading ceramicists working in Britain and internationally since the 1950s.
Although wide-ranging, the collection was not intended to be comprehensive or encyclopedic. It is a testament to Henry Rothschild's passion for ceramics and his zest and enthusiasm for discovering outstanding works made by highly skilled craftspeople. In his own words, every piece 'has its own story to tell and gives great pleasure on daily acquaintance'.
The Study Centre is the culmination of a long relationship between Henry Rothschild and the Shipley Art Gallery that began in 1990 with loans and gifts to the gallery. Henry was attracted to the Shipley's commitment to encouraging public engagement with contemporary craft and design.
Today the Shipley is home to more than 330 works originally collected by Henry. This Study Centre enables us to see Henry Rothschild's collection en masse for the first time.
In partnership with Northumbria University the Gallery now offers the Henry Rothschild Bursary for Ceramic Artists. A series of five bursaries will be offered to early career ceramicists. The bursaries are jointly funded by Henry Rothschild's family and Northumbria University.

Collection D​onations & Queries
Art Galleries Enquiry Service Suspended
Due to work for the major exhibition The Lindisfarne Gospels, we have made the difficult decision to suspend the art enquiry service until February 2023. We apologise for any inconvenience caused.
---
Please get in touch with us (via phone, email or letter) before bringing in your items. Send us a photograph if possible.

We'll reply letting you know whether your donation offer is either - something we can accept / or if we need more information / or if we cannot accept your offer / or to arrange a time for you to bring your item in.
There are a variety of reasons that we may not be able to take your donation. We have a Collections Development Policy that we must use when making a decision.
Please note that unless there are compelling and legitimate reasons, hazardous objects and substances will not be accepted.
Please note that we cannot help with identifying artists/pictures. We can only respond to art queries that directly relate to objects in our collections. Please consult the collection website first. The best way to start your search is to enter just a couple of key words (e.g. artist surname and a main word from the title) into the Keywords box. Please note, the collections website may work best when accessed from a computer rather than by phone.