Accessibility Guide
A warm welcome for everyone
You can download our accessibility guide for the Shipley Art Gallery as a Word document.

Entrance Charges
It is free admission for everyone.
---
Car Parking
The Gallery is situated on Prince Consort Road, close to Gateshead Central Library. There is free parking with a 2 hour limit outside the Gallery. There is one accessible parking bay directly outside the Gallery for the use of blue badge holders.
---
Public Transport Access Routes and Drop Off Points
The Shipley Art Gallery is a twenty minute walk from Gateshead interchange for Metro and bus services, in the direction of Saltwell Park. The Gallery is also on several bus routes, stopping opposite the Gallery and a five minute walk around the corner to Old Durham Road. For more information on public transport telephone the NEXUS traveline on 0871 200 2233 or visit the traveline website.

The nearest drop-off point by taxi, dial-a-ride, car or coach is on Prince Consort Road, directly outside the Gallery.
---
Building Entrance
There are four steps to the main entrance at the front of the Gallery. To the left on the main entrance, on the side of the building, there is a 10 metre long ramp to an automatic door leading to the reception and shop area. Once at the top of the ramp there is level access door to the shop, reception and galleries.
---
Getting Around
There is level access around the Gallery. Should visitors need to access the lower ground floor (for instance to partake in a workshop), this is accessible via a staircase but can also be reached by wheelchairs around the side of the building. Please alert staff on the front desk if you require this access.
---
Seating
There is a selection of seating throughout the galleries so that visitors can rest if they so wish.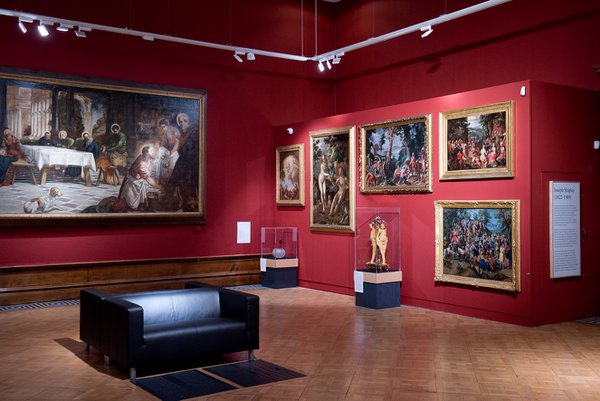 Two double seater sofas in the main gallery space
---
Public Telephone
The Gallery phone on the reception desk can be used in an emergency or to book taxis for disabled people.
---
Gallery Plans
Please ask staff on the front desk for assistance with orientation in the galleries.
---
Assistance Dogs
We welcome assistance dogs. The front desk can provide a bowl of water.
---
Induction Loops
The Shipley does not have counter loops or induction loops. However a temporary loop can be arranged if we have advanced warning for meetings. Staff will always assist members of the public in need of support. Please feel free to contact us for more information.
---
Talking audio Guides and Listening Point
There are no audio guides or listening points in our galleries.


---
Displays, Exhibitions and Attractions
Large print guides are available for the 'Designs for Life' gallery. Also in 'Designs for Life' there are a number of films exploring artists and their techniques. These have audio points and subtitling.
Braille versions of text or subtitling from any of the above can be provided upon request.

---
Films and Interactive Displays
There are various interactives in the galleries. These include computer interactives and films. A session with additional handling materials can be provided upon request.
---
Special Exhibitions and Learning Family Activities
Throughout the year, the Gallery holds a wide variety of changing exhibitions, events and activities. For further information please contact the Gallery.
For more organised workshops and classes, please get in touch with a member of the learning team at the Gallery.
---
Guided Tours for Groups
The Gallery does not provide regular guided tours but if your group would like to have one please contact the Gallery. Three weeks notice should be given.
---
Accessible Toilets/Baby Changing areas
There is a male accessible toilet on the ground floor to the left of the shop and a female accessible toilet on the ground floor to the right of the main entrance. Both male and female toilets have baby changing facilities.
---
Breastfeeding
Breastfeeding is welcomed throughout the gallery.
Please click here to read Tyne & Wear Archives & Museums' commitment to women who are breastfeeding.

---
Shops and Cafés
The Shipley shop contains a range of gifts, books and jewellery for all ages and budgets.
There is not a café facility at the gallery.
---
Pre-visit Information
The pre-visit information is currently under revision. Please contact the gallery ahead of your visit, by calling 0191 477 1495 or by emailing info@shipleyartgallery.org.uk
---
Wheelchair Hire
A manual wheelchair is available on request from the main reception/shop. There is no charge/deposit for this service.
---
Fire Alarms
The fire alarms give an audible bell warning. There is an evac-chair to assist disabled people to exit the building through the rear basement level if required. All fire exits are clearly signposted. If you are likely to need assistance to exit the building in the event of a fire alarm please tell a member of staff on your arrival.


---
Staff Training
All staff attend a programme of core training which includes customer care, diversity and disability awareness. They are here to help visitors enjoy the time they spend in our venues
If there is anything that we can do to make your visit more enjoyable please contact us, we will be happy to assist you.
---
Accessibility Statement
Although we make every attempt to make the venue as accessible as possible, aspects of the building and the nature of the exhibitions we show sometimes make it difficult to make everything fully accessible.
Here are some examples:
i) The Gallery building is Grade 2 listed. The main structure of the building and some of the original fixtures and fittings (ie doors) are protected which means it cannot be altered without the permission of English Heritage, whose role it is to try whenever possible to preserve buildings in their original form.
For example flat street level entrance into the Gallery could only be achieved through the building of a ramp extension rather than altering the stepped entrance to the original building which we were not allowed to do.
ii) Many of our exhibits need to be protected from damage caused either accidentally by visitors or indeed by the environments in which they are displayed.
While many of our exhibits are displayed in cases we do try to put items on open display where the object is not at risk. However this is not always possible.
Where items are on open display it is important that the ambient relative humidity and temperature of the gallery is maintained and at a constant level. This means that doors leading into and out of the building will need to be closed. The door at the top of the ramp is automatic and will open on approach. Should the door not open widely enough for you to pass through please ring the bell by the door and a member of staff will be on hand to increase the width of the opening manually.
There are other occasions when items on open display need to be protected and cannot be touched. In this instance you may find that there are some low slung barriers which will indicate how close you can get to something. Again if you require further assistance, please ask a member of staff but remember you will not be allowed to touch it.
Light levels in exhibitions of paintings and of costume and textiles need to be low. High lux levels will cause paintings and fabrics to fade over a period of time. If you need assistance, please ask a member of staff.