Henry Rothschild Memorial Bursary
Henry Rothschild Lecture with guest speaker Sandy Brown
---
The Henry Rothschild Bursary
Henry Rothschild (1913-2009) was a leading figure in contemporary British crafts and design.
The Henry Rothschild Study Centre at the Shipley Art Gallery displays over 200 ceramics from the personal collection of Henry Rothschild, founder of the Primavera gallery in London.
The richness and breadth of this fantastic collection is demonstrated in works by Lucie Rie, Bernard Leach, Ewen Henderson, Gordon Baldwin and Gillian Lowndes. Henry was a passionate supporter of emerging artists whose work he believed in and the ceramics bursary continues in this spirit.
The 2020 Bursary of £5,000 will be awarded to an emerging ceramic artist.
The aim of the award is to give an artist the opportunity to develop their practice in ways in which they would not otherwise have the time or resources to do, enabling them to pursue new creative directions and ways of working. The award winner will have two years to complete the work funded by the Bursary.
In partnership with Northumbria University the Gallery now offers the Henry Rothschild Bursary for Ceramic Artists. A series of five bursaries will be offered to early career ceramicists. The bursaries are jointly funded by Henry Rothschild's family and Northumbria University.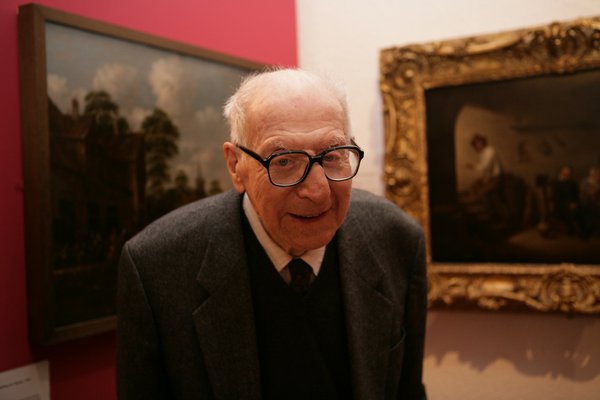 The late Henry Rothschild (1913-2009)
Runners up - 2020
Chloe Monks
View Instagram profile here
"I'm a contemporary ceramic artist from Bristol, currently living in Herefordshire. I investigate material possibilities within ceramics, heavily led by the core fluidity of glaze and fluxes that make up a large percentage of my work. Works I produce tend to lack stability but embrace risk, chance and movement. The structures I produce are comprised of balanced solid sheets of clay connected by fragile joints. With the addition of glaze this structure solidifies but maintains the illusion of fragility. I actively produce works in response to phenomenological thought taking particular focus upon the writings of Maurice Merleau Ponty, and contemporary texts such as that of Ian Bogost. These philosopher's works make me question my own relationship with the purity of the making experience."

---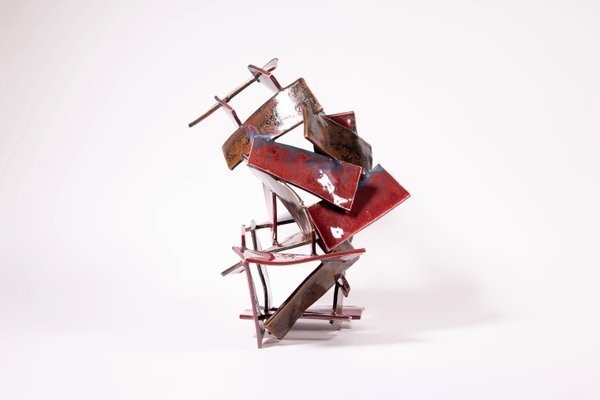 Chloe Monks, Epoch of Simultaneity I, Photo courtesy of the artist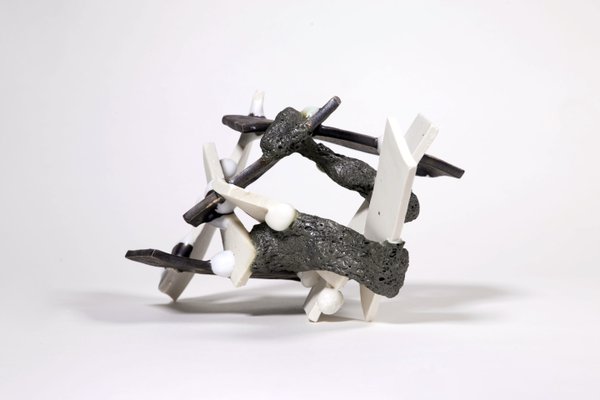 Chloe Monks, Gum Joints, Photo courtesy of the artist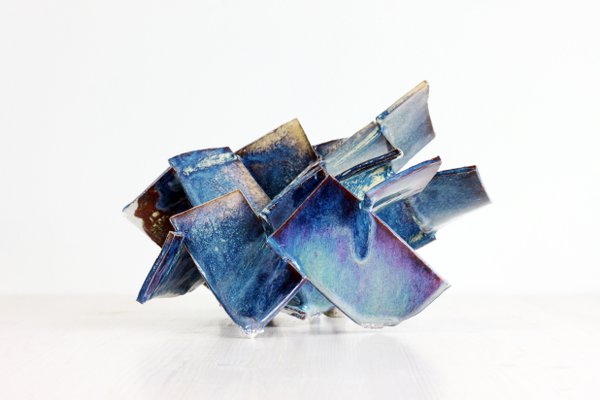 Chloe Monks, Epoch of Simultaneity II, Photo credit Guy Marshall-Brown
---
Pop Wilkinson and Jez Anderson
View website here
"Working together under the name Popalini & Jezando we make collaboratively designed pots and have particular interest in teaware. We take influence from the traditional pots of North Devon, which is where we are both from, and also from the subtle understated forms we admired whilst working in Japan.
The angular forms of our thrown teaware are contrasted with soft tactile elements that together celebrate the materiality of clay and pair technical complexity with visual simplicity and function. Wood-firing is becoming an ever-increasing part of our process as is an exploration of ash glazes and wild clays."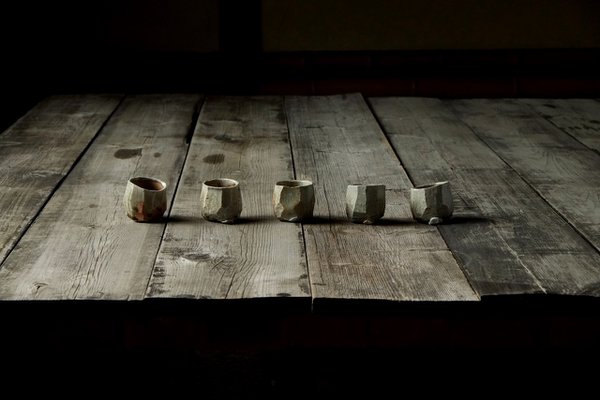 Wood-fired Carved Guinomi, made in Japan. Photo credit Popalini and Jezando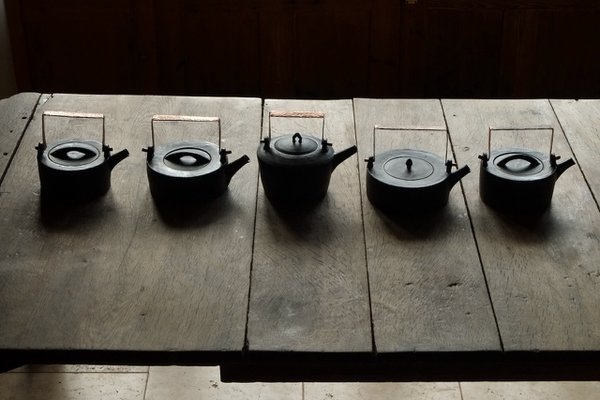 Section of Thrown Teapots with Hammered Copper Handles. Photo credit Popalini and Jezando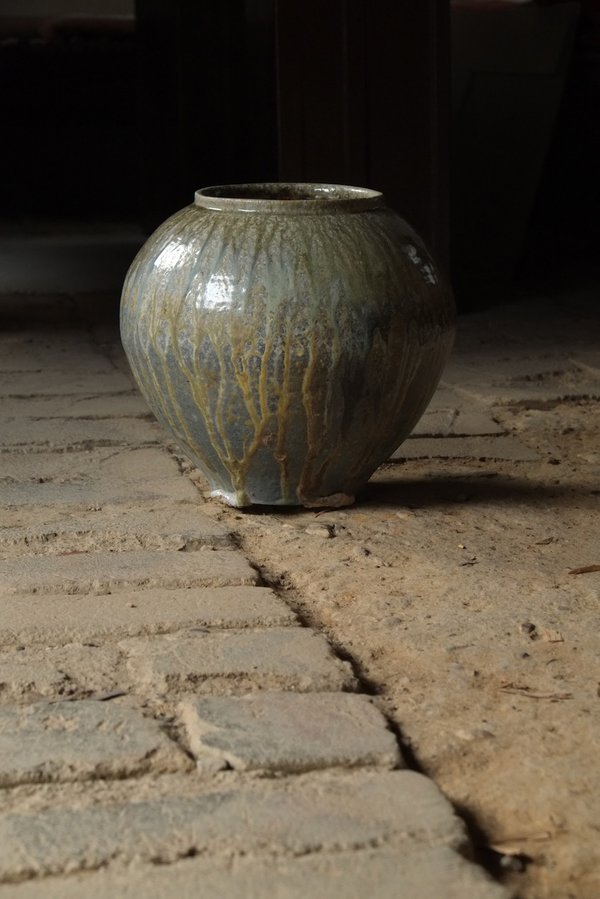 Wood-fired Tsubo, made in Japan, photo credit: Popalini & Jezando
---
Aphra O'Connor
View website here
"I was born in Whitby, North Yorkshire, and retain a strong link to my Northern industrial heritage through my three-dimensional collages. I graduated from the Royal College of Art with a Masters degree in Ceramics and Glass in 2019 and from Wimbledon College of Art in 2014 with a BA in Sculpture. This sculptural background allows me to visualise clay in a manner that is outside of the traditional craft pathway.
The driving force in my practice is a fascination with found objects and how collaged combinations of these plaster casted forms can generate a unique visual narrative.
I unearth and gather discarded everyday objects that contain interesting 3D patterns, cast and record their forms in plaster, and then play with ways to amalgamate them. I use clay as a primary medium for its tactile and transformative nature, in slicing, bending and breaking these moulded sections I can dexterously examine the details I want to exploit and manipulate further. The final sculptures aim to both imitate and reshape these everyday items, challenging how we interact with prosaic forms.
The act of collecting is personal and has become ritualistic, as it chronicles my travels and experiences. I now have a growing library of forms to draw inspiration from, and a mechanism for archiving my memories."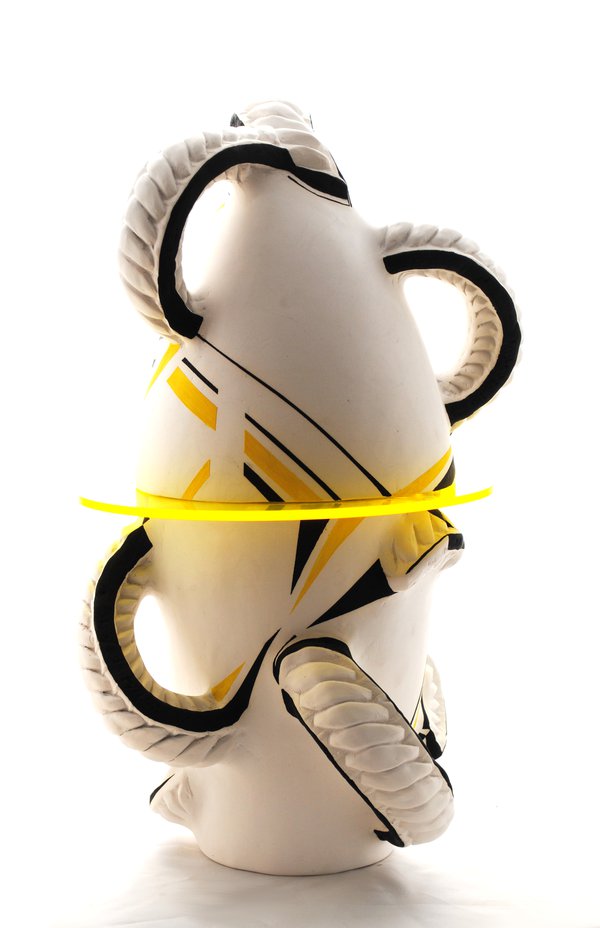 Aphra O'Connor AGGLUTINATE CURLICUE 2020 earthenware, slip, underglaze, acrylic 47cm H x 25cm W 25cm D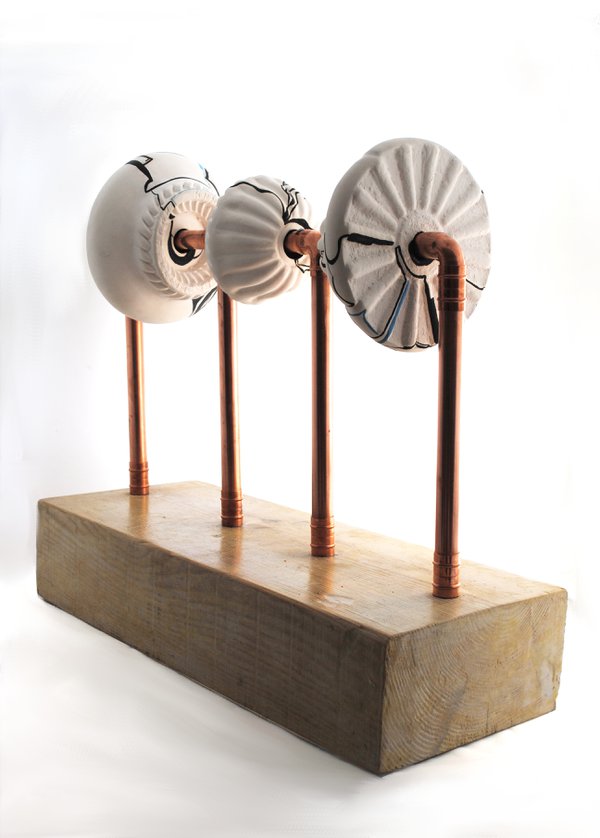 Aphra O'Connor AGGLUTINATE AGGRANDIZE 2020 earthenware, slip, underglaze, copper, reclaimed pine 63cmW x 25cmD x 54cmH

---
Elena Gileva
View website here
"I fixate on the decorative, historical and ornamental through the medium of ceramic, sculpture and installation. My background is both in ceramics and fine art, having graduated from MA Royal College and BFA Parsons Paris School of Art & Design. In my practice I combine various historical and personal narratives, references and processes, with hand-built and heavily glazed ceramic objects taking centre stage."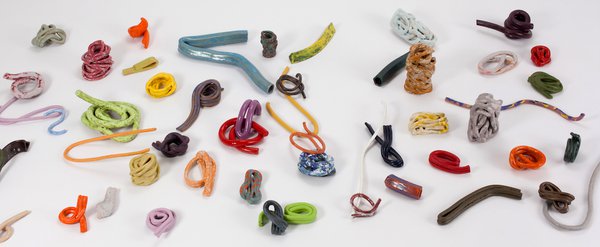 Elena Gileva, Current Landscape of uncertainty, 2019. Photo by Yoi Kawakubo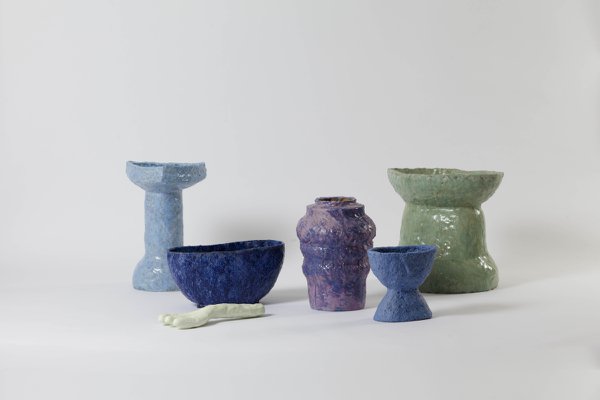 Elena Gileva, Blue Lunch, 2019. Stoneware, glaze, dimensions vary. Photo by Yoi Kawakubo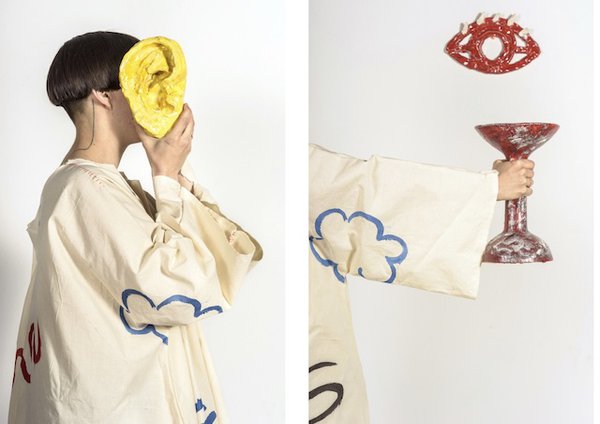 Elena Gileva, Ritualistic Objects, 2019. Photo NA
---
Helen Johannessen
View website here
Helen studied at the Royal College of Art and graduated in 2017, she previously worked for twenty years in ceramic design and production. She re-challenged herself mid-career and now exhibits highly accomplished artworks in porcelain, with a focus on surfaces.
Her work combines traditional and modern industrial ceramics which makes it an exciting part of her processes. She adapts her crafting expertise for her personal vision; concepts that consider perception, tactility and viscerality - to make unusual and one off works in clay using plaster casting.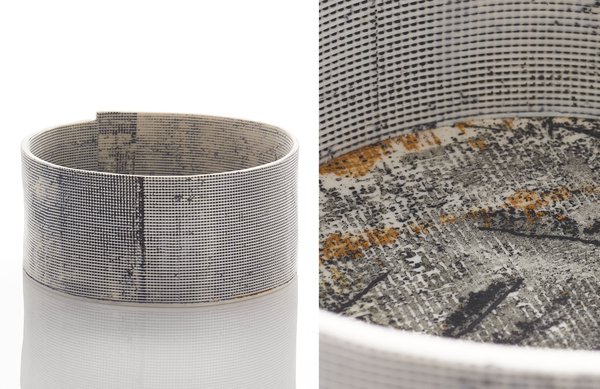 Helen Johannessen, Textures of Time. Printed, cast, hand built parian porcelain, 24x24x15cm high. Photo credit: Sylvain Deleu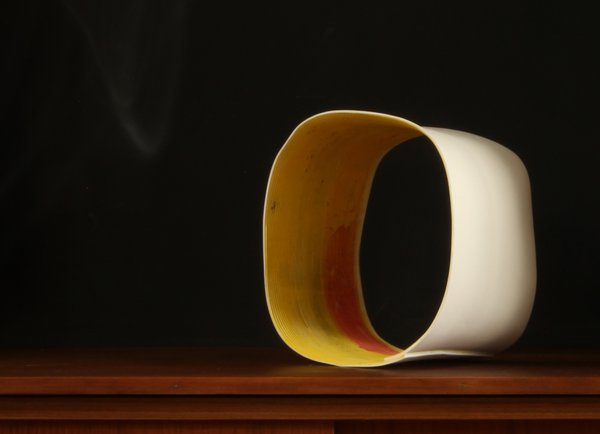 Helen Johannessen, Inside Out Stockholm. Printed porcelain, cast, hand built 29x30x 14cm deep. Photo credit: Anthony Grima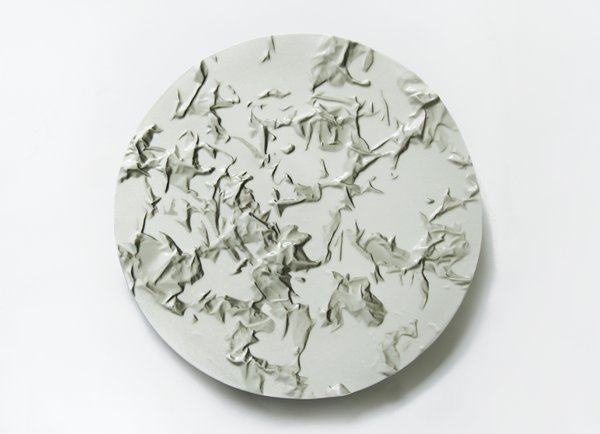 Helen Johannessen, Perspective. Perception. Jingdezhen. Porcelain 32cm diameter. Photo credit: Anthony Grima

2020 Winner: Mella Shaw
Mella Shaw
View website here
"I am a ceramic artist making objects and site-specific installations around environmental themes of balance, tipping points, fragility and loss. My background is in anthropology and the study of material culture and I came to ceramics as a second career, having previously worked in museums and galleries. I am drawn to the way objects can be imbued with shared cultural meaning and I am particularly interested in the power clay has to communicate thought-provoking ideas and emotion.
Since graduating with a MA in Ceramics and Glass from the Royal College of Art in 2013, my practice has centered on an exploration of the energy and dynamism that is present at moments just before, or during, transition. My work is often finely balanced and I aim to captures in a static object the tension revealed when one thing shifts or gives way to another; where order and structure are held on the brink of chaos and chance. Over the last 5 years this formal exploration of points-of-no-return has led me to make publicly engaged environmental work addressing the tipping point of our global climate crisis.
I will use the Henry Rothschild Memorial Bursary to focus on developing a new body of work I have titled "Rare Earth" which will highlight the fast-approaching threshold of global mineral depletion. Through this work I aim to challenge the consumerist behavior that ignores the finite nature of these resources. Specifically, I will draw attention to the thoughtless disposal of old or obsolete electronic products (such as computers, smart-phones, televisions etc), collectively called "e-waste" which is so widespread that 50 million tonnes is thrown away globally every year. This "waste" in fact contains precious metals and minerals, currently thrown away in such large quantities that it will soon be more cost-effective to mine for gold and other precious metals in landfill than to keep extracting them from virgin mineral reserves.
I will be carrying out research into the 60 different minerals and elements commonly used in smart phones and other electrical devices to inform my sculptural ceramic pieces. Alongside this I will be using gold as a widely recognized symbol for value, and I will experiment with making my own gold-lustre from gold that has been salvaged directly from e-waste.
I currently live and work in Edinburgh and am a visiting lecturer on the BA Ceramics Design course, Central Saint Martins (London) and a tutor at Edinburgh Ceramics Workshop, as well as being a freelance curator and writer."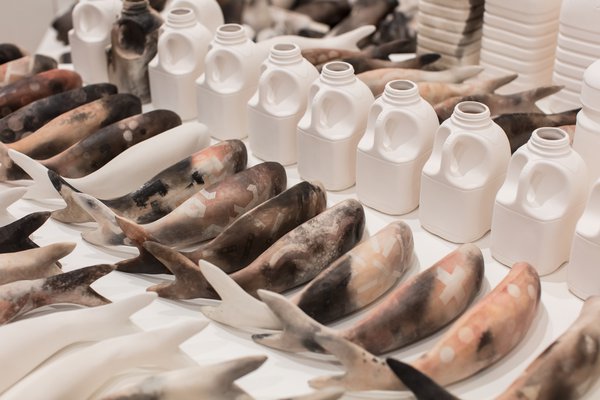 Mella Shaw, HARVEST (detail) at Collect Open, 2018 © Sophie Mutevelian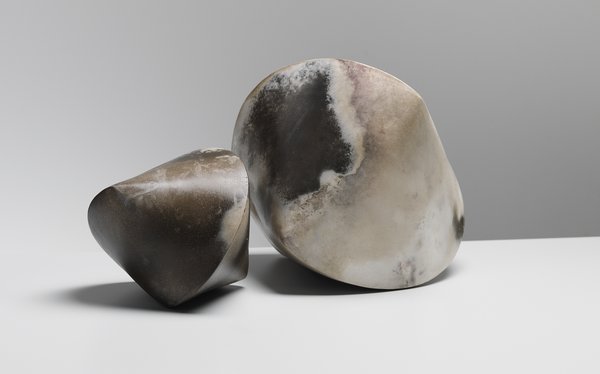 Mella Shaw, Two Janus Forms, 2019 © Shannon Tofts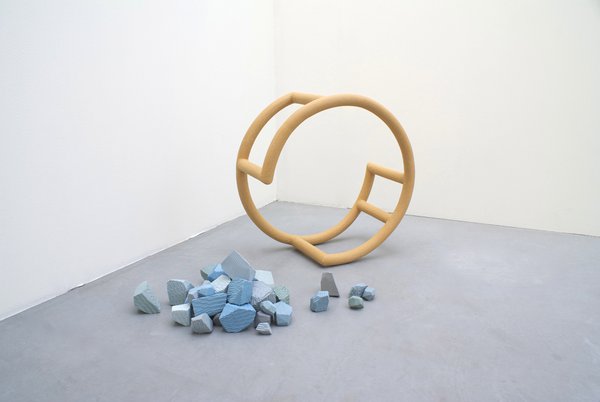 Mella Shaw, Postcard One, 2015 © Mella Shaw