Refracted Commentary: An exhibition of new ceramics from Fine Art Students at Newcastle University
An exhibition of new ceramics from Fine Art Students at Newcastle University, created in response to the John Christian collection at the Shipley.
Refracted Commentary

Installation - Refracted Commentary

Refracted Commentary

Installation - Refracted Commentary

Refracted Commentary

Installation - Refracted Commentary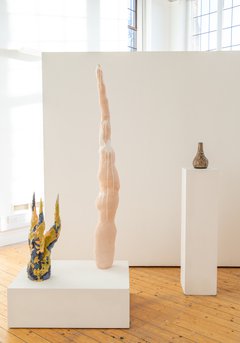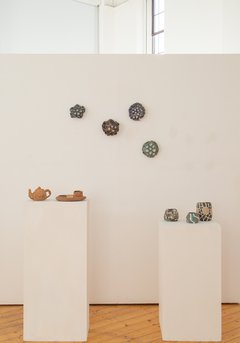 Refracted Commentary: Shipley Exhibition
---
John Christian's collection of study ceramics
Who was John Christian?
John Christian (1942–2016) was an art historian and a leading authority on nineteenth-century British art. A published author on books about art, he had a varied career which saw him curate exhibitions as well as a work as a consultant in the Victorian Pictures department of Christie's Auction House. Outside of his work, Christian painted and built up his collection of British studio ceramics and pottery.
John Christian's interest in studio ceramics started when he was a student at Cambridge. When working at Kettle's Yard, he was able to study it, handle it and get to know the potters' work, which stood him in good stead when he started collecting himself.

He had a keen eye for spotting up and coming talent and bought their work as they started out on their careers, as well as established potters. He collected early as well as current work of the same potter and went to several fairs and exhibitions in Europe getting to know the work of continental artists. Artists such as Kerry Jameson, Aneta Regel, Ewen Henderson, Reginald Wells, Dan Kelly, Phil Eglin, Gillian Lowndes, alongside European ceramicists such as Thiebaut Chague, Claude Champy, Gutte Eriksen, Katerina Evangelidou, Hans Vangsø and Camille Virot; together with Japanese artists such as Shozo Michikawa, Yuriko Hill.
Through his writing on Edward Burne-Jones and other Victorian artists, he became interested in 19th century potters, like the quirky Martin Brothers and Castle Hedingham. This range, from the new to the well-known, the old to the contemporary, combined with the spread of works across careers, makes the collection different from others of its kind, and a unique record of the development of British and European studio pottery in the period.
It was his wish that his collection should go to museums, in particular outside of London. He collected studio pottery for most of his adult life, and formed what is a good, wide-reaching and important collection. He collected studio pottery for most of his adult life, and he put so much thought, care and love into its formation, making what he thought was a good, wide-reaching collection.
Refracted Commentary: An exhibition of new ceramics from Fine Art Students at Newcastle University
Students from Newcastle Fine Art were invited to devise new work in response to the Shipley's John Christian Collection of Studio Ceramics. The collection is vast and varies from the historical to the contemporary, introducing the students to a range of ceramic techniques and processes. When creating, students took inspiration from form, movement, texture, colour and contextual narrative of the artwork, approaching the collection with exploration and invention. Originally imagined as a physical exhibition at the Shipley itself with the collection pieces alongside, we hope that viewers enjoy this new online iteration and are intrigued by the many different creations that inspire a relationship between the Shipley collection and the students' own identities.

View the student profiles below.

Maximiliane Ley
Title of work: Castle Hedingham (c.1860)
Name of Collection Object/artist: Jug/Castle Hedingham Pottery
---
Artist Statement: Ley shows a playful approach to representing identity by combining fact and fiction in narrative inspired by the John Christian collection. Ley chose a Castle Hedingham jug with autobiographical qualities of third generation Edward Bingham who was said to have created the lizard on the jug at only eight years of age. She develops an imagined personality for the young Bingham through her own ceramics and film work.
Shipley Collection Info: The name Edward Bingham is closely associated with Castle Hedingham Pottery. Not just one Edward Bingham, but three. For the sake of clarity we will call them Grandfather, Father and Son -- all Edward Binghams.
Grandfather, three years after moving from Blackheath, London, in 1834 to Gestingthorpe in Essex, set up a pottery to supply domestic ware to the local community. Son, aged eight, would help him by making sprigs in the form of flowers, animals, birds and snakes for application to the pots.
By the time Son was in his mid-thirties he was potting full-time in his own premises at Castle Hedingham and drew his inspiration from antiquity. His influences were mainly classical and he had an interest in medieval English and German stoneware. In the 1870s he exhibited in Chelmsford, Sudbury and Hertford.
---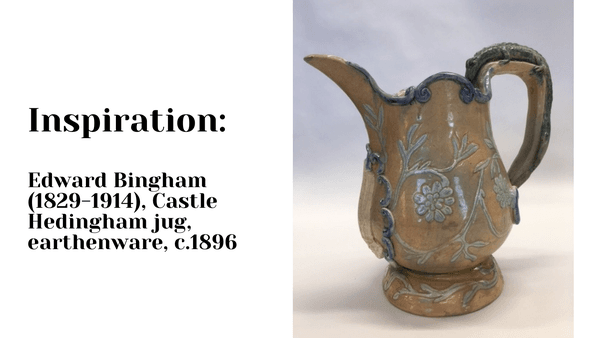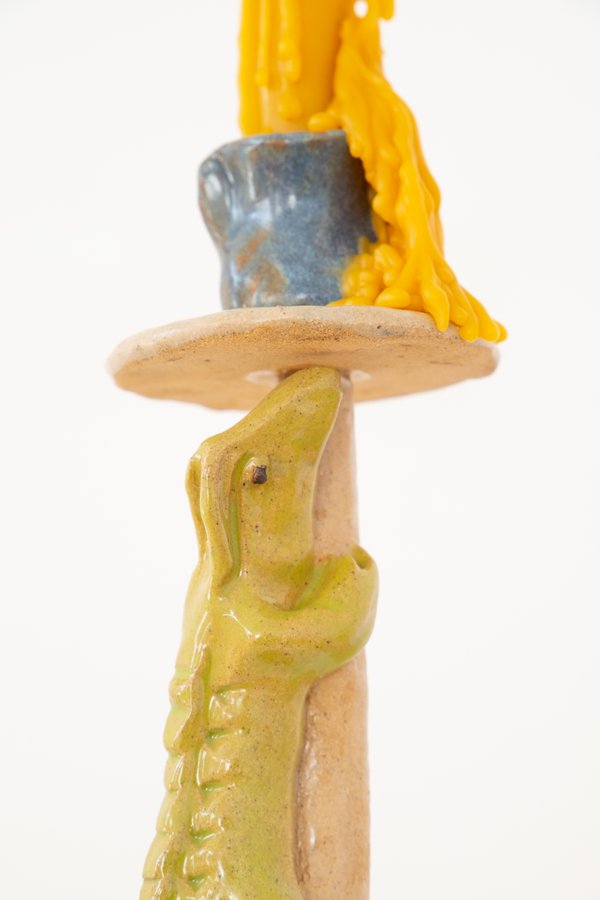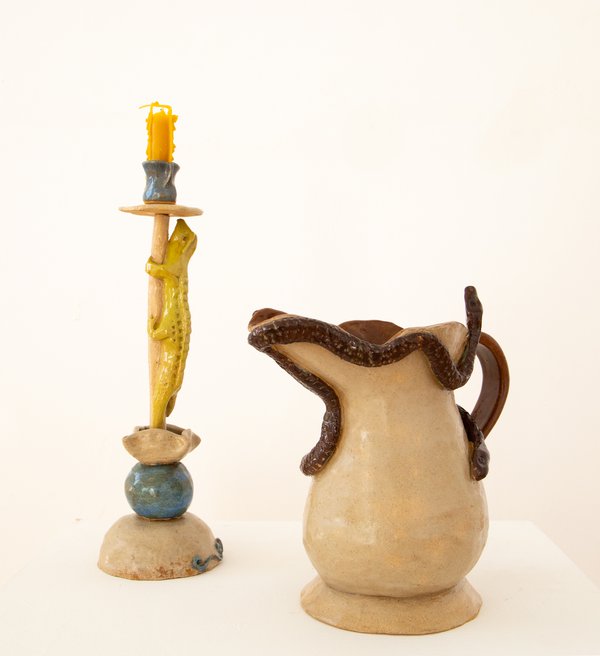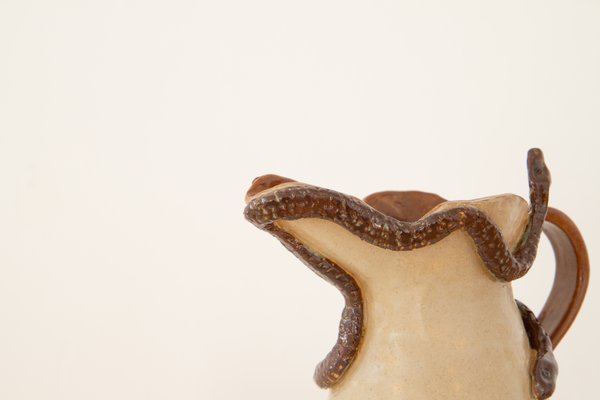 Cho Jo
Title of work: " I think this is my body " / CHO ( self-portrait)/ alter ego
Name of Collection Object/artist: Stoneware Vessel/Aneta Regel
---
Artist Statement: My work is all about me, it's CHO itself. I've put the feeling of both my extrovert and introvert personalities into my work through the texture and abstract shape.
By building up a lump of clay unstable, I create my body and complete myself, using textures and curved shapes from nature like Regel, the lack of control creates spontaneous work: let the clay take you there. I believe 'The most personal is the most creative'.
Shipley Collection Info: Aneta Regel creates abstract ceramic sculptures that emulate the natural world around her. Trees, rocks, and riverbeds are some of the elements through which she seeks to convey her vision. She captures the forms, energies, and rhythms of these natural phenomena, and also provokes emotional responses in viewers. Regel explains, "The human body and objects found in nature fascinate me. My work carries anthropomorphic references and autobiographical narratives." In addition to clay and layers of glaze, Regel also uses volcanic rock materials, basalt, granite, and feldspars to form the main body of her pieces, resulting in visually complex surfaces and textures.
Regel is a graduate of the Royal College of Art and member of the Fellow Craft Potters Association. Her work is held in the collections of the World Ceramics Museum in Korea, Westerwald Museum in Germany, and Handelsbankens Konstförening in Sweden. Her first solo exhibition in the United States, Second Nature, was organized at the Jason Jacques Gallery in 2017.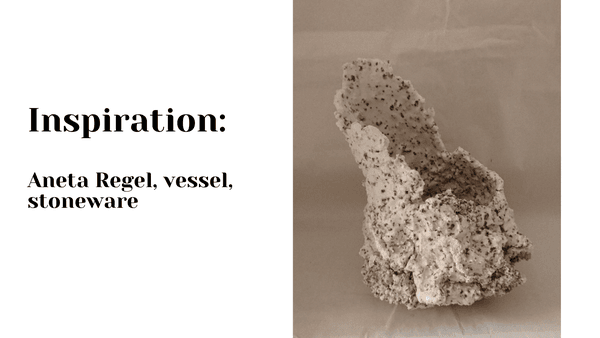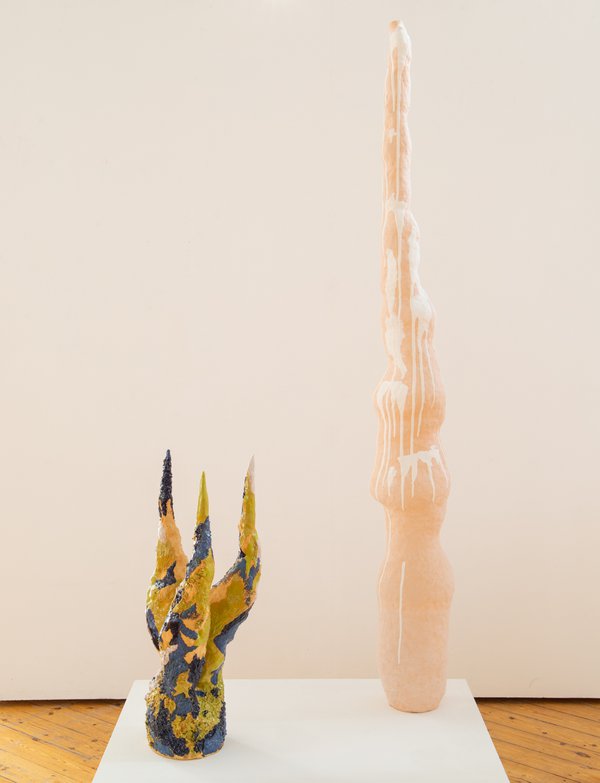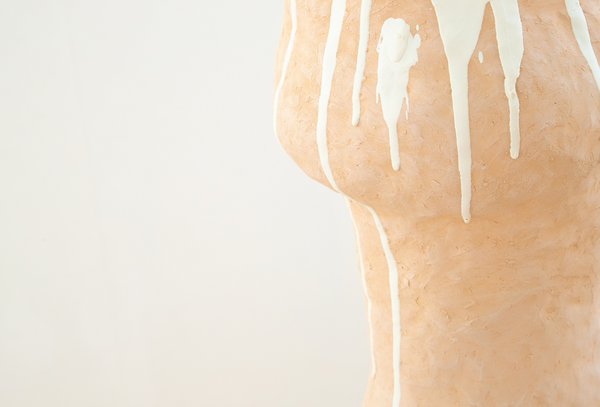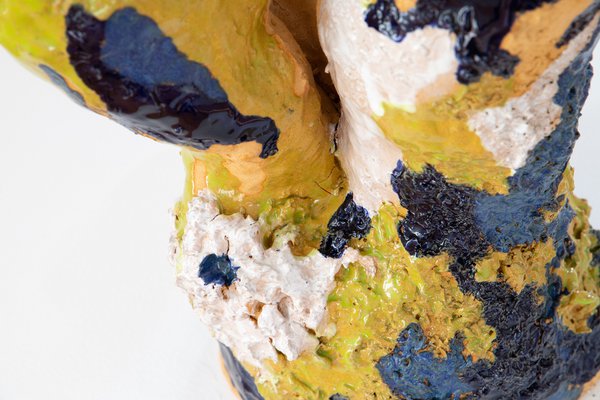 Eden Chapman Maurice
Title of work: Trypophobia
Name of Collection Object/artist: Andrea Hess
---
Artist Statement: The Hess sculpture seemed to stand out to me right away because of all the curious holes that are scattered across it. It made me wonder what might be inside this strange object. John Christian had no information about the artist in his collection and I couldn't find much through my own research but he is a contemporary artist. Emulating pieces of made plush toys.

Shipley Collection Info: Concepts Andre Hess makes simple shapes that are both familiar and fugitive. Shapes that require the viewer to question what the pieces mean rather than what they resemble or represent. The making process informs the meaning of the work. He uses technique that fulfils the requirement. Surface treatment serves only to qualify what is already there. Career path Qualifications: Modern Art Practices and Debates, the Open University, passed with distinction Understanding Western Art, the Open College of the Arts Batchelor of Veterinary Science, University of Pretoria, South Africa Areas of work: Exhibiting Collections: National Gallery, Cape Town, South Africa University of Pretoria, South Africa The Clay Museum, Cape Town, South Africa The South African High Commission, London Altech/Altron Group, Johannesburg, South Africa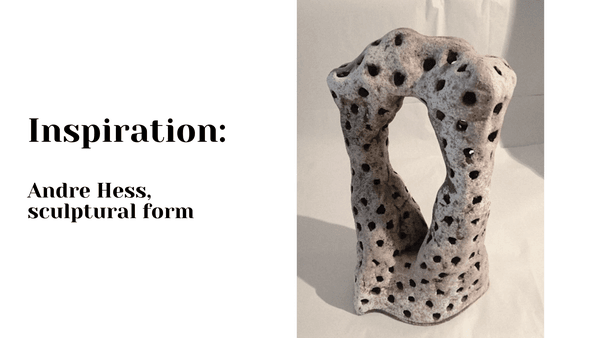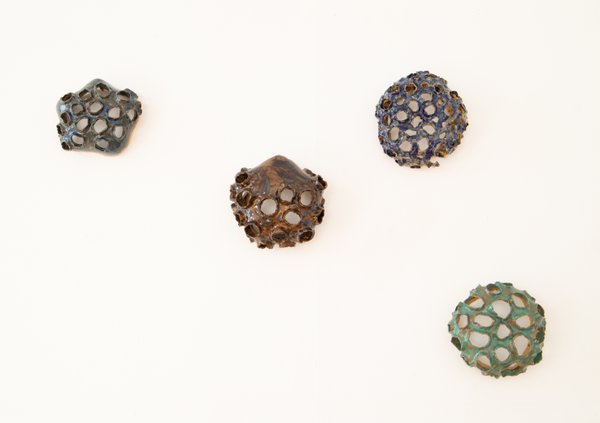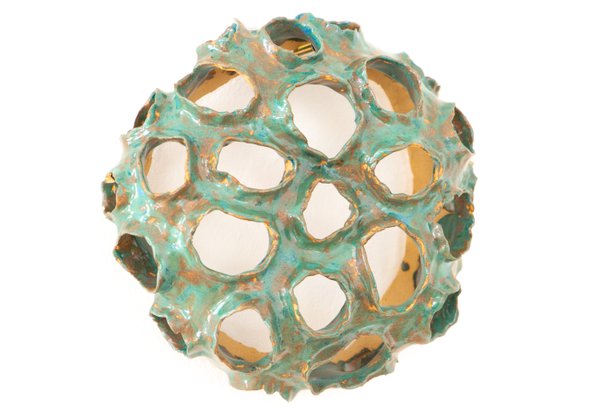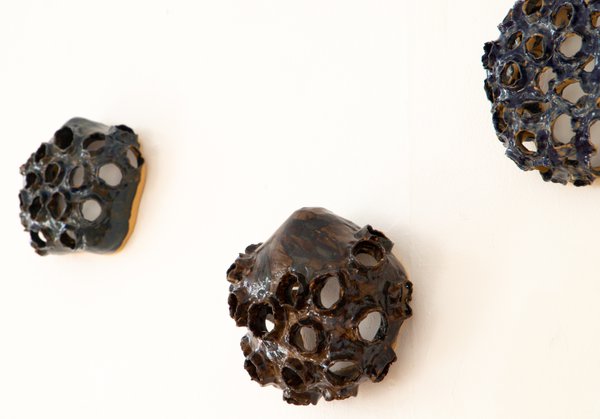 Bethan Harris
Title of work: Moving Vessel
Name of Collection Object/artist: Ewen Henderson 'Tea Bowl'

---
Artist Statement: For this project, I have created three stoneware ceramic vessels in response to Ewen Henderson's artwork titled 'Tea Bowl'. At first glance of the piece, I was drawn to its bubbly and swollen texture and his use of colourful glazes that come together to create a complex layered surface.
Each vessel I have made evokes natural forms: this can be seen as abstract designs, realistic depictions and cellular patterns that cover and move around the surface of the work. Situated next to each other, they create an evolving series: from basic abstract ideas, to showcasing plant cells and textures that allude to coral or oceanic vegetation.
I enjoyed responding to Ewen Henderson's work and integrating my own ideas which played with texture and colour as well as disrupting the balance between purpose and form. Through the process of making, I was able to uncover new skills and ceramic techniques that I will continue using with future artworks.
Shipley Collection Info: Ewen Henderson was born in Staffordshire in 1934. He became interested in painting and sculpture over a period of seven years spent working for a timber company in Cardiff, South Wales. He left Wales in 1964 to join a pre-diploma course at Goldsmith's College, London.

He went on to study pottery under Hans Coper and Lucie Rie at the Camberwell School of Art, taking his diploma there in 1968. He then remained in London, teaching at Camberwell, Goldsmith's and the North London Collegiate School, whilst building up an international reputation as a potter.
Ewen was internationally respected for his highly original constructions - vessels and other sculptural work, variously coloured and with richly textured surfaces. He was also a passionate painter - his watercolours, gouaches and collages increasingly inseparable from his concerns in clay. He died in 2000.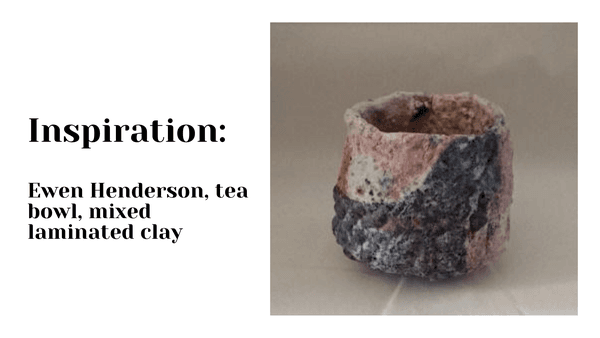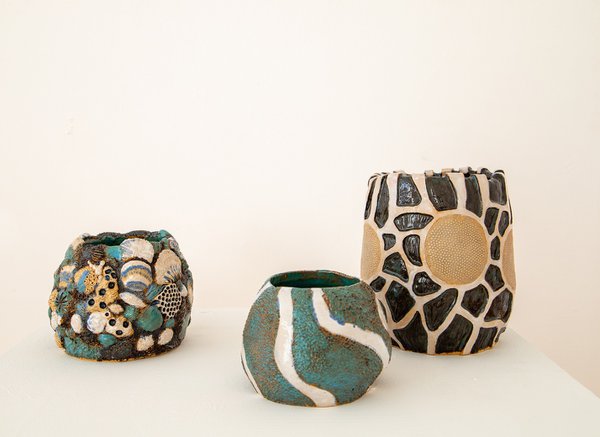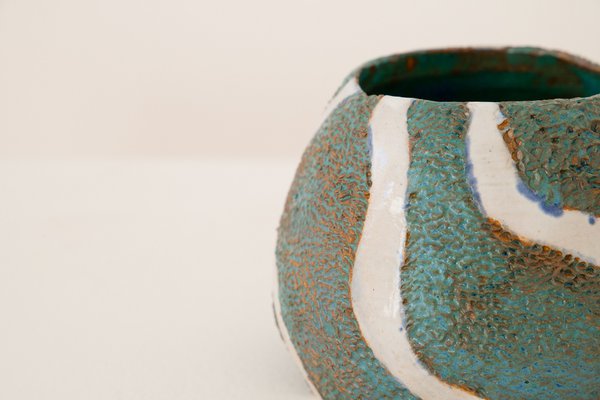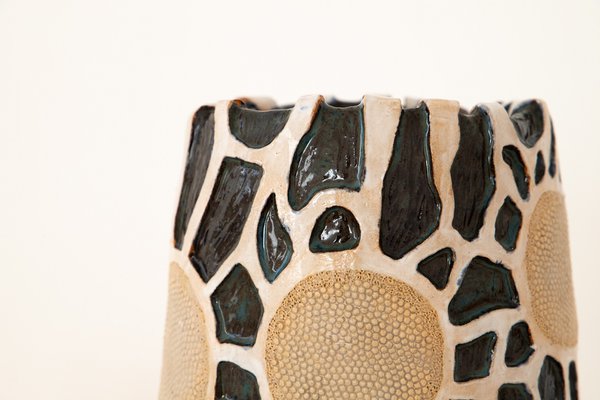 Katharine Ward
Title of work: Tableware

Name of Collection Object/artist: Ornate Jug, Martin Brothers' Pottery
---
Artist Statement: The Martin Brothers were particularly prominent in late 19th century Victorian pottery. This collection responds to a jug adorned with fine botanical sgraffito. The carvings of the artist's work respond to Martinware, but also reminisce over rural upbringing and family memories in the local woodlands of her home in West Yorkshire.

Shipley Collection Info: The "Genius" of the Martin Brothers was born out of the early apprenticeships of Robert and Edwin at the Doulton Lambeth factories and prior to that at the Palace of Westminster. Each of the Four Brothers had distinct roles within the Studio; Robert Wallace was the self-appointed figure head of the factory and was principally responsible for the modelling; the face jugs and grotesques were largely his work. Charles ran the shop and gallery at High Holborn, London, whilst Edwin was the principle decorator and Walter the thrower.
They were the early pioneers of the studio pottery movement, using salt glaze stoneware to produce their unique and hand crafted designs. The vessels range from the early formal geometric and floral designs through to their comical and grotesque vases and models incorporating birds and sea creatures and the highly unusual "spoon warmers".

Later production focussed on a range of organic gourd vases. Their work was highly collectable even at the time of production and they were patronised by some of the leading philanthropists, merchants and politicians of the day. It is said that their grotesque "Wally Birds" were modelled on leading public figures of the day.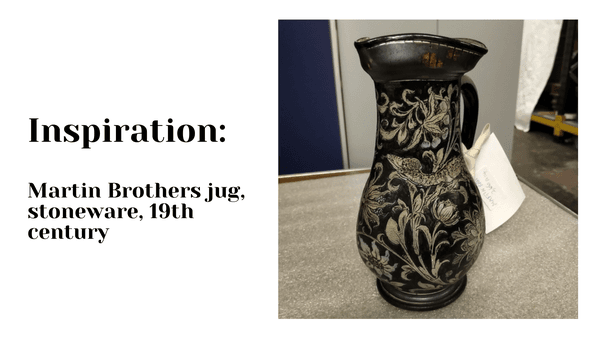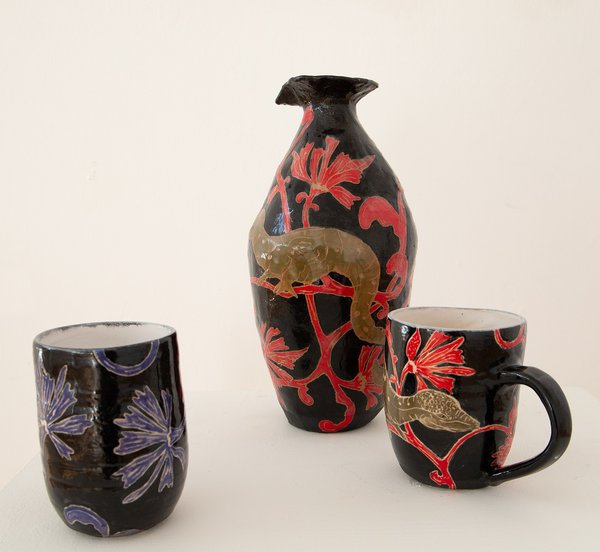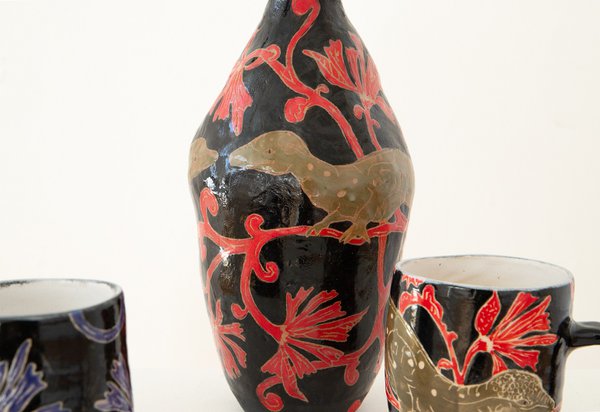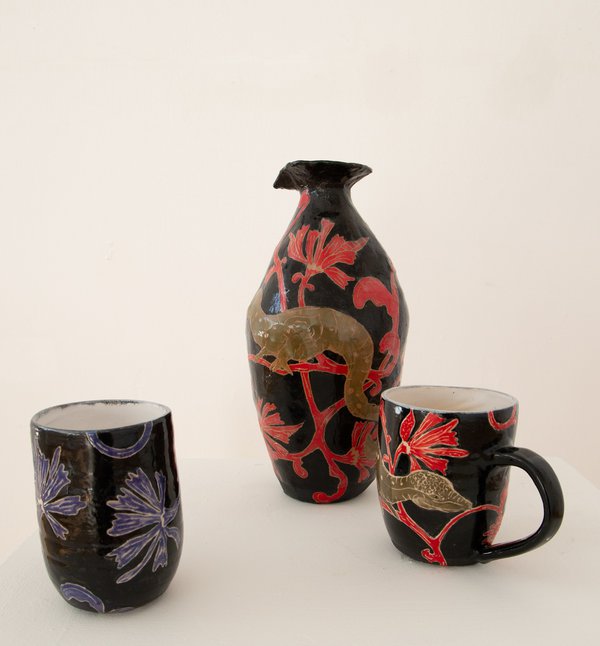 Liam Aldridge
Title of work: Functional Earth
Name of Collection Object/artist: Shozo Michikawa Black Teapot
---
Artist Statement:
Functional Earth is a stoneware ceramic, made in response to the laminated textural quality of the Black Teapot and its simplicity in playing with the teapot form. The Black Teapot alludes me to question the layers of history surrounding the teapot as a functional homeware ceramic and its material relationship to the earth. Functional Earth is my reaction to this highly bonded relationship. Functional Earth's teapot form has been produced using an untraditional technique called silt casting, a cast formed using earth for clay slip, producing an earth like surface to the ceramic.
Shipley Collection Info: Shozo Michikawa was born in Hokkaido in 1953. He studied at Aoyama Gakuin University, from where he graduated in 1975. He lives and works in Seto, Aichi. He has exhibited widely in Japan and also in the Philippines, Mongolia, France, New York and London. In 2005 he was honoured with an exhibition at the Forbidden City in Beijing.

Though his techniques are diverse, Michikawa always strives to create 'functional' pieces. He writes "no matter how styles change I always insist on creating pieces that can actually be used. Pottery was originally an integral part of people's lives."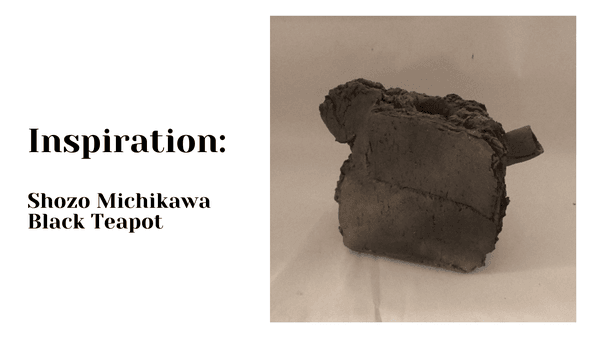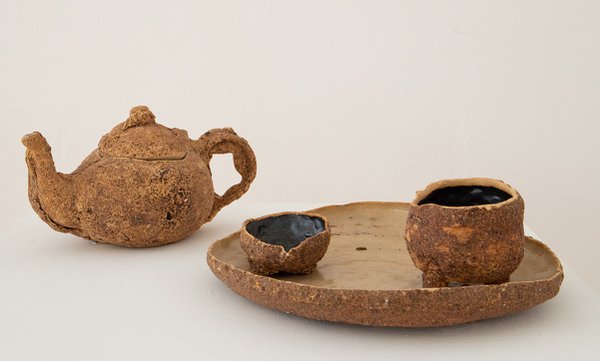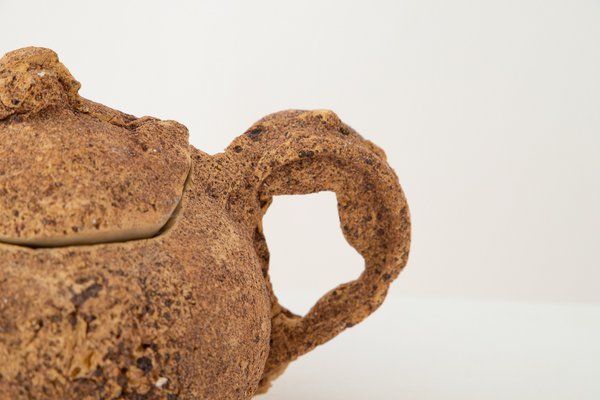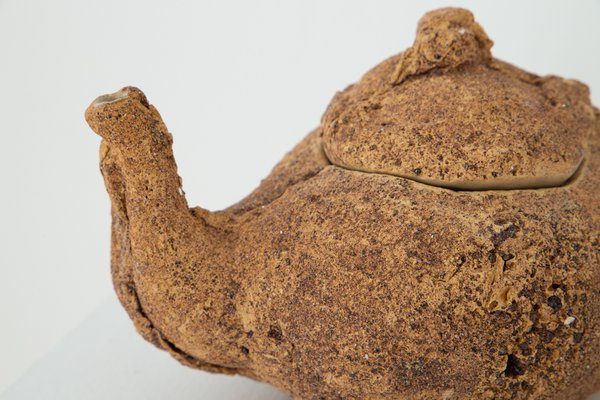 Megan Cahill
Title of work: Work in Progress
Name of Collection Object/artist: Two small pots/ Reginald Wells
---
Artist Statement: Reginald Wells is primarily recognised for his large ceramic pots however, I was intrigued by the artists small ceramics pots that I saw displayed at The Shipley Art Gallery. The technique and artistic process behind each ceramic piece is something I wanted to explore further. Using the throwing wheel I began experimenting throwing of the hump which is a technique used to make small detailed ceramic pots. This experimentation allowed me to understand the different techniques used within pottery and I began to reflect on the mass production of those ceramics works through a hand-made and pottery wheel approach. Through this process I experimented with the size and glaze in relation to Reginald Wells ceramic art so that my pots could work in correlation to his.
Shipley Collection Info: There were potteries at Wrotham in Kent, as early as the seventeenth century. In 1900, Reginald Wells, at the age of twenty-three set up his pottery at nearby Coldrum. He had previously studied as a sculptor at the Royal College of Art, and as a potter at Camberwell School of Art in London.
After nine years he moved Coldrum Pottery to Chelsea, and continued there until the outbreak of the first World War. Wells, who had an interest in flying from an early age, devoted the war years to his Wells Aviation Company working from the same premises. After the war he moved to the Kings Road, renaming the company the London Pottery Company, and changing the mark from COLDRUM to SOON. In 1925 he moved to Storrington in Sussex, retaining the SOON ware brand, and continued there until his death in 1951.
Wells favoured larger pieces, and is well known for his big vases, often with three handles. He worked in stoneware and earthenware, sometimes with slip decoration. He is sometimes thought of as the father of British studio potters, coming a generation before Leach.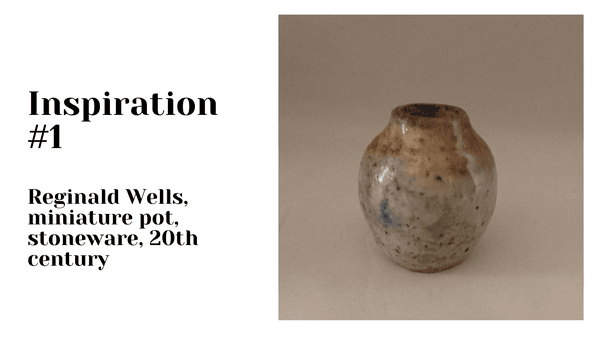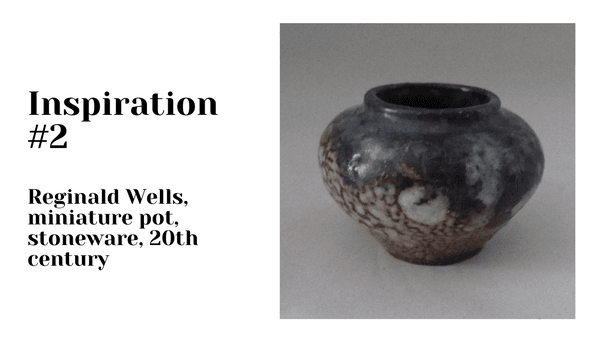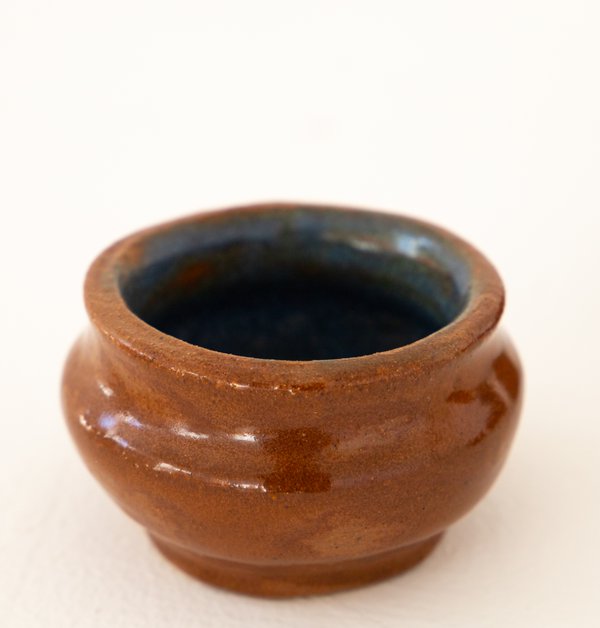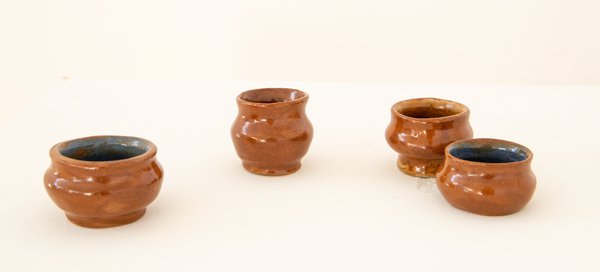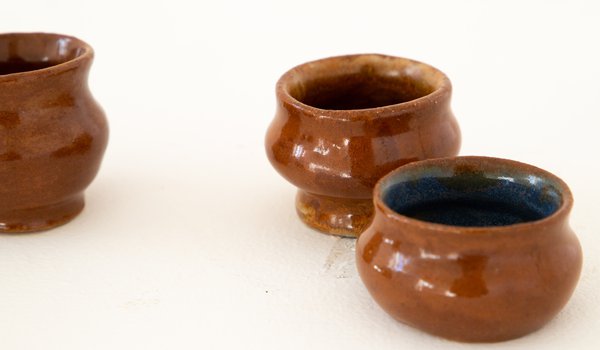 Maura Hawkes
Title of work: Fate Lines
Name of Collection Object/artist: Tall Stoneware Vessel/Susan Disley
---
Artist Statement: Thinking of the unusual mark making on the surface of Disley's vase as a kind of music score, language or code led me to consider my own personal symbols which I used to create a logographic language. After hand building my vase, I mimicked the horizontal rings of Disley's piece and placed symbols in between them using sgraffito. I made people going around the vase and connected their paths with lines. I thought about them as lines of fate leading them towards and away from each other and wondered what significance the symbols around them had.
Shipley Collection Info: Susan's work is hand built using coiling, pinching and slabbing methods, either singly or in combination. Scratched and incised lines enliven the surface. Using a narrow palette of colour I repeatedly fire my work, building layer upon layer. She is concerned with the concept of function co-existing with a free discovery of form. Keeping the design process to a minimum allows for a deeper, gradual and personal understanding.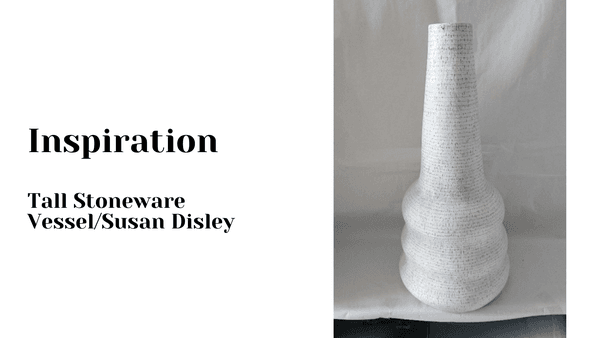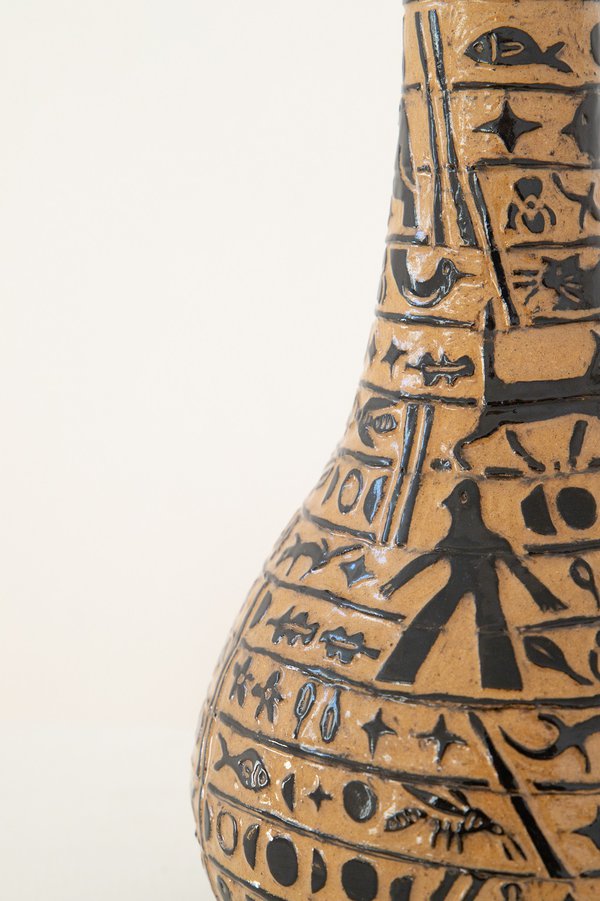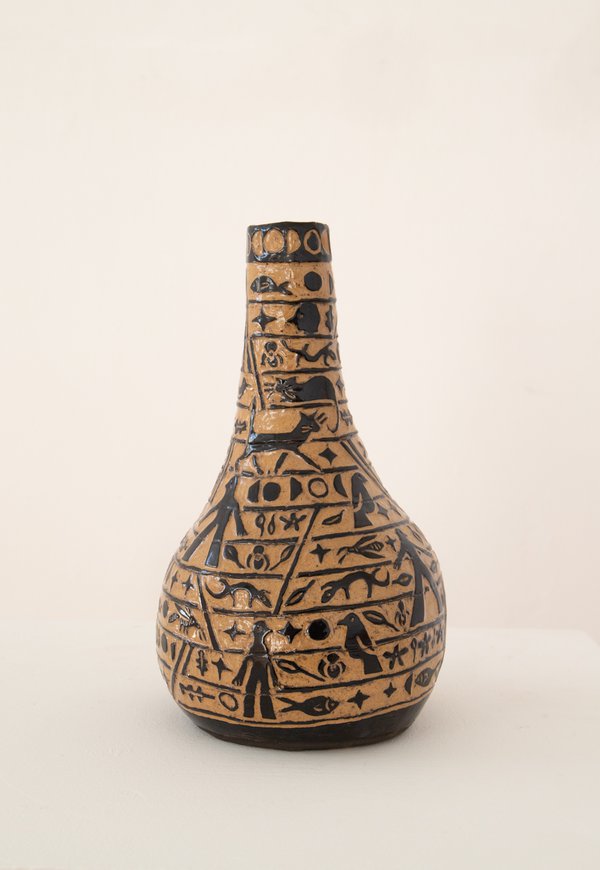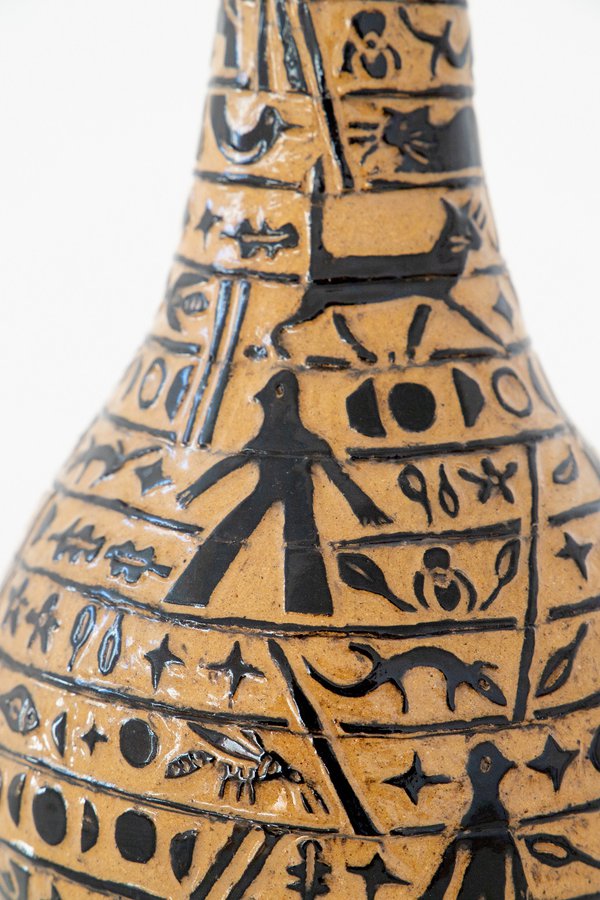 Pheobe Law
Title of work: Herd (ewer) soaks in
Name of Collection Object/artist: Dan Kelly, tall vessel, stoneware
Artist statement:
'In first seeing Kelly's work I was intrigued by the rough and almost metal looking edge within of his vases. Also, having recently been working with metal myself, I was fascinated by the way Kelly achieves such a malleable and rough-edged look within his work. Inspired by these qualities alongside themes I was exploring within my own work I created 'Herd (ewer) soaks in'. This piece explores themes of regulation, normalisation, and separation within barriers between humans and animals with a focus on the farming industry of cattle. I was interested in the process of making with clay and how the unfinished state can shape our perception of an object.'
Shipley Statement:
Dan Kelly trained at Camberwell School of Arts and Crafts, ceramics 1973-7, where Colin Pearson was an initial influence, encouraging him to develop his throwing technique and Ewen Henderson. After Camberwell he continued his studies and completed a post graduate course at the Royal College of Art from where he graduated in 1979. Dan Kelly has continued making work and held various technician posts until he became 'Artist in Residence 'at Christ's Hospital School in 1988 and now currently teaches.
His work is thrown stoneware pots, some are manipulated by cutting and reshaping by hand. The decoration of his work is deliberately kept to a minimum with dark metallic oxides however, his white porcelain pieces are left virtually untouched with dark glazed interiors. The size of the work can range from four inches upwards.
---