Saltwell Park Museum at the Shipley
A display breathing new life into objects from Saltwell Park Museum collection.
Saltwell Park Museum at the Shipley
This display features glassware and ceramics, taxidermy, bird eggs, insects, minerals, fossils and geology, as well as objects donated from Gateshead residents.

Many of the items on display were on show in the museum at Saltwell Towers in Saltwell Park until the late 1960s, by which time the house had fallen into disrepair and the collections were at risk. In 1974, when Tyne & Wear Archives & Museums took over the running of the Shipley Art Gallery the collections were rescued and stored safely, but this is the first time that objects from the old museum have been brought together again for display.
The refurbishment of the gallery and the display were made possible through funding from the DCMS Wolfson Museums and Galleries Improvement Fund.
Saltwell Towers 1902

This photograph was used for a postcard in the early 1900s.

Coronation Procession

Model of the Queen's coronation procession.

Robsinon Crusoe

A wood carving by Gerrard Robinson which was housed in the original museum.

Victorian Child's Scrapbook

Images taken from a Victorian child's scrapbook.

Gateshead Goat

A statue from the Goat Inn.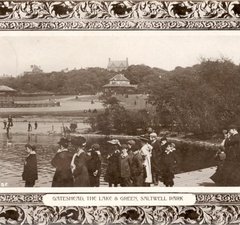 Based in the heart of Gateshead, Saltwell is one of Britain's finest examples of a Victorian Park.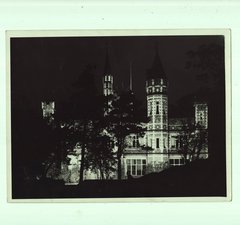 Built in 1862 by William Wailes, the towers lie in the heart of Saltwell Park.