Artist Showcase: Bradburn Films
This is a historic exhibition. It is no longer available to visit and this page is only retained as a record of the previous event. For current and future exhibitions, visit our
What's On
page.
Part of Autism Awareness Week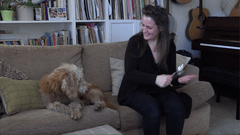 Until 2 April 2022 (historic exhibition)
Shown during Autism Awareness Week 2022 (28 March - 2 April), Bradburn Films presents a series of short films showcasing and celebrating the work of seven autistic artists living and working in Gateshead.
The films will introduce you to some brilliant work created by a dancer, an animator, a filmmaker, a pianist, a musical director, a carpenter and a willow artist.
Bradburn Films worked in partnership with The Lawnmowers, Beacon Films and Aukestra to identify these exciting early career artists. Thank you to Well Newcastle Gateshead Arts Fund, which funded the opportunity.