Best suited to 2-5 year olds but younger children also welcome.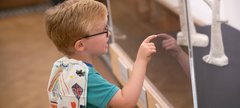 Crafty Kids sessions take place on Tuesdays during term time.
Time
10-11.15am
Price
New price £3 per child plus small booking fee.
Number of places
10 child tickets per session.
Booking
Pre-booking strongly advised
Pre-book here for 2023 sessions
Pre-book here for 2024 sessions
Please book a ticket for all children who'll be participating.
We do accept walk ups but this is subject to there being enough spaces available. We only run the session if enough people have pre-booked.
Due to space restrictions we request only one adult per participating child. Additional adults can attend by booking an 'additional adult' ticket.
Christmas Appeal by St Chads
We are a drop off point for donations (no money) to this year's St Chads Community Project Christmas Appeal - read more about the charity here
A fun-filled session led by our friendly Early Years specialists, Julie and Jenny. Each session is based around a theme found in the artworks, such as colour, texture, line and animals.

Discover the gallery with your little ones, and support their early development in a fun and relaxed way. In these sessions, families will discover the artworks, get creative with a range of art materials, and explore the gallery together. There'll be stories, songs, and fun creative activities - all designed to actively engage pre-schoolers with the gallery.
We'll gather in our cosy lounge for stories and singing. No need to sit still for long though - we'll be going exploring, doing treasure hunts around the gallery, and playing creatively to help us discover the artworks on display. At each session you'll make something to take home, using a wide range of art materials which are not too messy.
Shiny
12 December
A hunt for shiny objects will take you and your crafty kid around the gallery. Then make some shiny jewellery and shiny decorations for the Christmas season.
Birds
9 January
Find out about where birds live, what they sound like, and make a feathery picture of them.
Angel of the North
16 January
Explore the gallery to find the Angel of the North, and make yourself into an angel.

Trees
23 January
Find trees in the artworks, discover natural materials, and do some 'leaf dancing'.
Straight lines
30 January
Make some fabulous art and discover lots of different ways to make straight lines.

After the session, please enjoy the gallery at your leisure. We provide space for families to enjoy a packed lunch.
Best suited to 2-5 year olds but younger children also welcome.
Parent/carer reviews:
'Excellent use of resources and a great way of introducing young children to the art gallery. Julie is excellent at interaction with parents and children.'
'Excellent session, well planned short activities for the children. Lovely interaction with the children and parents. Thank you very much.'
'Lovely session. Well paced and very interactive - our first time but we'll come again'.
'Julie was so welcoming and made sure to speak with each child. The children really enjoyed the crafts and exploring the gallery. Brilliant!'