Online event about the John Christian studio ceramics collection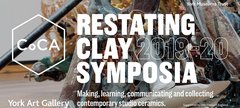 Time
5 - 6.30pm
Booking
Register your free place here
This event, the second of two, heralds the Shipley Art Gallery's acquisition of the John Christian studio ceramics collection in 2020.
About this Event
Curating Ceramics: Online Collections, Community Building and Activism
In 2020 the Shipley Art Gallery acquired the John Christian studio ceramics collection. Originally due to open as a new permanent collection this year, these plans have been put on hold due to COVID. However, to celebrate this exciting collection at one of the UK's leading arts and crafts museums, you are invited join us for this, and a first event on the 26th January 2021, exploring ceramic collections and community, with leading international artists and curators.
This event is a partnership between Newcastle University, the Shipley Art Gallery and the Centre of Ceramic Art (CoCA) Subject Specialist Network at York Art Gallery, and supported by Arts Council England.