Creative meet ups for artists, designers, crafters, producers and curators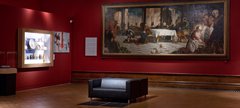 When
First Saturday of every month, 10.30am - 12.30pm
Booking
Pre-book essential.
Book: 2 October
Book: 6 November
Book: 4 December
Future events will start from February 2022.
Price
£2 each (plus booking fee)
First Saturdays is an opportunity for creative people living and working in Gateshead to meet, network and hear about creative projects and events happening in Gateshead. It is for creative people to hear about new projects and people's creative practice, and develop new ideas and collaborations. There will be an opportunity to present new work and your practice to a wider audience, supported by the Shipley and Tyne & Wear Cultural Freelancers (TWCF), and gain support in developing it further.
Come along to the first event to find out more about the Shipley and TWCF and what we hope 'First Saturdays' will become going forward. You will be able to influence and be involved in its future direction and gain from opportunities developed.
Whether you an artist, designer, crafter, producer, curator living in Gateshead, or just have a general interest in art and craft and the cultural world you are welcome to attend.
Children and babies are welcome at this event and is open and inclusive. First Saturdays is a collaboration between the Shipley Art Gallery and Tyne & Wear Cultural Freelancers.