Join us every Thursday during the Summer holidays for drop-in crafty fun.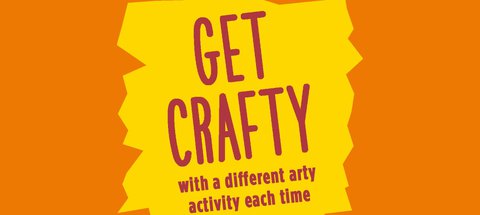 Time
10am - 2pm, drop in
---
Price

£3 per child
Pay on arrival or book online.
---
Suitable for children aged 2+
This activity aims to be fully inclusive and anyone with additional needs is welcome. If you would like to have an informal conversation with a member of the learning team before attending then please contact the Shipley learning team on learning@shipleyartgallery.org.uk
Every Thursday during the Summer holidays join us for a fun-filled drop-in craft day. We will have a range of different art and crafts for you to have a go at from jewellery making, garden crafts, ceramics, textiles and more.
Thursday 26 July: textile craft
Inspired by Grayson Perry's colourful tapestries, we invite you to illustrate your own mini tapestry using fabric pens, pastels, beads and more. This is a chance to make your own illustrated story or pattern to take away with you. You can also sew a felt portrait badge - sew yourself, a friend, a family member or a pet portrait and transform it into a piece of jewellery to wear this summer. You can also bring along a picnic and have lunch in our new community garden where there will be bubbles, games and music.
Thursday 2 August: paper craft

Make a pinwheel windmill to put in your garden at home, create your own paper pets, make a mini paper sculpture for our mini gallery and have a go at making your own paper (messy!). This will be a day to fold, cut, stick and tear paper and learn about all the possibilities of this versatile material.
Thursday 9 August: design craft
A fun-filled family den building session. Have a look at some product design in our Designs for Life gallery and be inspired by the Shipley architecture, then plan and build your family den in the beautiful grounds of the Gallery. Garden games will also be out to play with and why not bring a picnic to enjoy outdoors? A full day of family fun!
Thursday 16 August: junk craft

Make a bug hotel and a bird feeder. This year the Shipley Art Gallery has opened its very own community garden and we want you to have fun outdoors as well as indoors. All sorts of creepy crawlies live in our garden and they all need hotels for their summer holidays. Be inspired by some of our beautiful items in our Designs for Life gallery and treat the bugs to 5 star luxury. Why not also make some colourful bunting to hang in our community garden whilst you are here and make a bird feeder to take home for your own garden? Bring a picnic and spend the day with us.
Thursday 23 August: clay craft

We have lots of lovely ceramics and clay crafts on display here. Have a look around for some inspiration and design your own ceramic beads to turn into a piece of jewellery or keyring. After you have made your ceramic beads have a look at some of the contemporary kitchenware designs in Designs for Life and have a go at making an egg cup for those long, lazy summer holiday breakfasts of boiled eggs and toast soldiers.
Thursday 30 August: wood craft
Make a door sign, a coaster and a photo frame. Using a selection of found and bought wooden shapes and pieces let your imagination run wild as you design your own unique wooden products. Make a door sign for your bedroom or kitchen, make a coaster for your favourite drink and make a photo frame to keep your favourite memory safe for ever. Look at some of the wooden craft objects in the gallery as well as having a look outside at nature's own wooden crafts for inspiration.