Makers in Clay: British Studio Pottery
Highlights from the John Christian Studio Ceramics Collection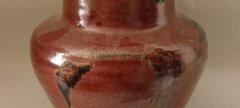 The studio pottery movement introduced a new way of making to early 20th century Britain. Rather than mass produced ceramics, the work of many hands, individual potters began to create one-off pieces which were an expression of their creativity in clay. This was not a nostalgic return to pre-industrial processes but a movement that repositioned potters as artists. A status that they retain today.
From the beginning, this movement was outward looking. British studio potters were inspired by the ceramic traditions of China and Japan and potters from Japan, Europe and the US have all helped to shape its development. It is also a movement in which women artists have always played a leading role.
The Shipley Art Gallery's outstanding holdings of ceramics was greatly enhanced with over 500 pieces from the John Christian Studio Ceramics Collection acquired in 2019. John Christian (1942-2016) was a leading authority on 19th century British art and an enthusiastic and knowledgeable collector of studio ceramics. This display features highlights from the collection and it is the first time that many of these pieces have been on public display.