On Hold > Hold On
This is a historic exhibition. It is no longer available to visit and this page is only retained as a record of the previous event. For current and future exhibitions, visit our
What's On
page.
NHS Art Therapy exhibition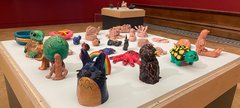 Until 7 October 2021 (historic exhibition)
This exhibition is work by a group of adults with learning disabilities and mental health issues and their support workers who have been meeting for a number of years on a weekly basis at the Shipley Art Gallery.
The group is an Art Therapy group facilitated by an Art Psychotherapist from Cumbria, Northumberland and Tyne & Wear NHS Foundation Trust.
Coming back together since COVID has been a positive experience, reducing the participants' sense of social isolation, providing much needed activity in their weekly routines, and improving their quality of life as they are accessing and working in a cultural space.
As a group we have started to appreciate and make use of the facilities in the gallery more since lockdown, responding to artworks on the gallery walls, arranging previous service user/exhibited artist talks and workshops and making use of the Shipley's Craft Handling collection with support from gallery staff. This work has been produced in response to these activities.
The Shipley is renowned for its ceramics collection and in response to this the group has been making their own clay pieces in response to what they have seen and held. This has been whilst thinking about what is important and precious to them, that they are keen to "hold on to" (including positive mental health).
Clay work in Art Therapy is a positive approach to working through stress and difficult emotions, enabling the physical release of bottled-up tension and creating an opportunity to make something positive out of this afterwards.
Participants were first encouraged to work tear, squash, poke and cut a lump of clay, providing a safe outlet for their stresses, frustrations and anger and an alternative to aggression or self-harming behaviours.
They were then encouraged to turn their cathartically "destroyed" clay into something more positive and aesthetic, whilst thinking about what mattered to them.
This process of destruction/dismemberment/disintegration and then rebuilding/reintegration provides a sense of healing and reparation, whilst also symbolising the group coming back together after a long period of time separate and apart.
The work produced here is displayed alongside some of the handling objects shown to the group which were inspirational in the themes and ideas used in the artmaking process.
Some pieces are unfinished, unpainted and unvarnished as not everyone (especially support workers who have changeable shifts) are able to return to finish their work. However, this displays the work in process (symbolising the often lengthy journey towards positive mental health) and also parallels some of the items in the object handling exhibit (such as Stephen Dixon's 'Lady Godiva', 1995).
Other pieces reflect cultural icons of the 21st Century that are important to group participants such as Star Wars, K-Pop and Studio Ghibli characters (perhaps inspired by the Stephen Dixon's "King Kong" sculpture from the handling collection).
There are also a number of bowls and pots, reflecting the Shipley's collection. You will notice recurring themes in the artwork in response to those found around the gallery including rainbows – a reminder of the COVID lockdown and a symbol of gratitude and hope - figures under trees, animals and figurines/statues.