Out of the Kiln
This is a historic exhibition. It is no longer available to visit and this page is only retained as a record of the previous event. For current and future exhibitions, visit our
What's On
page.
Rothschild Community Fund exhibition with ReCoCo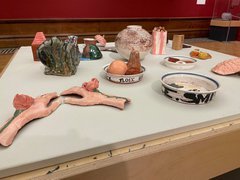 Until 19 October 2021 (historic exhibition)
Out of the Kiln
This exhibition of ceramics was created by members of ReCoCo, a peer led, peer delivered mental health education and support service. The project is funded by the Henry Rothschild Community fund, which supports Gateshead community groups to engage with ceramics at the Shipley Art Gallery and to work with a ceramicist to make their own ceramics.
Working with ceramicist Annabel Talbot the group explored the Shipley Art Gallery's renowned ceramic and craft collection and created their own ceramics and pottery inspired by it.
Over a number of workshops - taking place at the Shipley Art Gallery, ReCoCo Retreat at Saltwell Park and Bensham Grove Community Centre – the group explored the theme of senses. How does sight, smell, and touch connect to our surroundings as we create, and what senses, in particular smell, have we missed or has comforted us over the last year during lockdown. The moon jar in the centre of the display, created by Annabel Talbot, has scratched into its surface words mentioned by the group over the course of the sessions, when discussing the theme of missed or comforting smells.
Some of the group had experience of working with clay whilst for others it was something completely new, but each came to it with fantastic ideas, enthusiasm and engagement, and supported each other in learning about making with clay. The work produced here shows the talent and interest in the creative process as well as, in some, a new or renewed interest in creativity.
Exhibiting artists:
Susan Benneworth
Donna Pegram
Cath Benneworth
Natalie Duncan
Lee Smith
Simone Wiseman
Brody Finney
Thank you to ReCoCo for supporting the project and Bensham Grove Community Centre for use of the pottery and kiln. Thank you to Annabel Talbot for leading on the sessions with the group and supporting them in making their work.

This project was supported by the Henry Rothschild Community fund