Primary Arts Teacher Development Package
Enquiry
CPD for primary teachers looking to develop their skills & confidence in art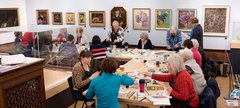 We have been working with primary school teachers to develop a programme of continued professional development, creating a range of practical making sessions to support teachers to explore art in the classroom.
All of the sessions include suggestions and ideas of how you can use the relevant skills from EYFS through to upper KS2, in order to support ideas for progression in your pupils' work, linking closely to the Art & Design national curriculum and to our unique and accessible art collections.
See Summary of Package for more information regarding content of sessions.
For more information or to book the package please get in touch by email learning@laingartgallery.org.uk or call us on (0191) 278 1939.
The standard package comprises 6 sessions selected from the options below. Sessions can be delivered across an academic year or condensed over 1 or 2 school terms, to suit your requirements. We would recommend no more than x20 teachers per session.

We understand that not one offer suits all schools so we are offering a 'Pick & Mix' package. Therefore, alternatively, you can choose any number of sessions from those outlined below depending on what areas or techniques you think that your staff might benefit from. This is with the exception of the first session which forms part of all offers. We are also open to tailoring the sessions to fit with your curriculum plans, and therefore if you have an art form that you are interested in exploring which is not listed below, please get in touch and we will do our best to tailor to suit your needs where possible.
Each session is individually priced at £180 (with a package of 6 sessions at a discounted rate of £900).
Session 1 – Intro (90 mins) Compulsory
Using gallery collections to explore, think, discuss, create; building confidence in applying visual literary techniques when visiting a gallery independently, using the gallery collections to engage pupils and inspire work back in the classroom across the curriculum. Discover how to get the most out of your visit; from booking and hazard identification to using gallery spaces and resources.
Session 2 - Drawing skills (60 mins)
Learning basic drawing/ sketching techniques, experimenting with different drawing materials. Understanding how to develop quick sketches into more detailed drawings, inside and outside of the classroom, and thinking about using these techniques to develop work.
Session 3 - Printmaking techniques (60 mins)
Learning basic printmaking techniques which can be replicated in the classroom. Useful for studying pattern, design, nature as well as artists such as William Morris. Emphasis will be placed on how to lead pupils through a learning journey using printing; exploring how certain materials and methods create different challenges and how to ensure that pupils then make informed decisions in future prints.
Session 4 - Watercolour techniques (60 mins)
Learning a range of watercolour techniques and how to apply these. Experimenting with various effects and using these to create a piece of artwork. Exploring how to demonstrate progression in pupils applying these techniques.
Session 5 – Textiles (60 mins)
Exploring using textiles to hit areas of the Art & Design and Design Technology curriculum. Learn how to use e-textiles to create an electronic circuit, and making felt which can be used to link with various topics and themes back in the classroom.
Session 6 – Sculpture (60 mins)
Using sculptures in our collection to discover how to explore concepts in three-dimensional artworks, such as 'abstract' and construction using a variety of materials. Have a go at creating with clay, and using philosophical enquiry techniques to discuss sculpture with your pupils.