The Blaydon Races
William C. Irving's painting captures the lively atmosphere of the Blaydon Races and fair.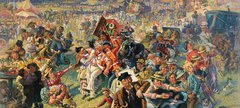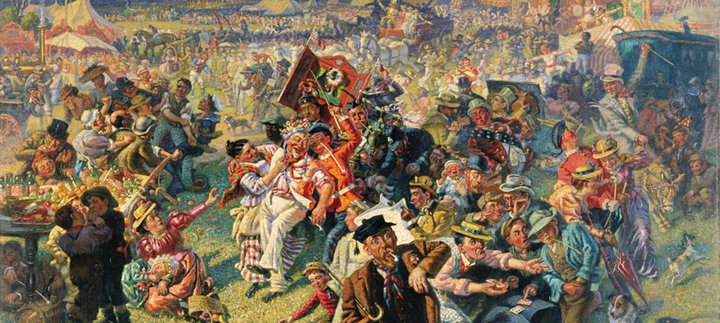 Time
Tuesday - Friday 10am - 4pm
Saturday 10am - 5pm
Price
Free entry, donations welcome
See William C Irving's famous depiction of the Blaydon Races, painted in 1903.
The annual Blaydon Races and Fair was a major event on Tyneside in the 19th and early 20th centuries. The attractions shown in this well-known and much loved painting include a large open carriage pulled by a team of white horses, men demonstrating acrobatics or boxing, and a sweet stall.
The picture was painted by the Newcastle artist William Irving, who included many local characters in it. Towards the front of the picture, 'Gull Willie of Newburn' is being tricked by the card cheat, the 'Swalwell Cat'. Filled with boisterous activity and fascinating detail, the characters in the world famous Geordie anthem, 'The Blaydon Races' are brought to life in this unforgettable painting.