KS2, KS3, Science, Art & Design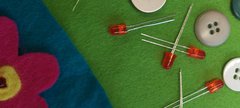 Charge: £200 per group
This charge covers the cost of materials.

Workshop Duration: 10am until 2.30pm (lunch break during)
Schools Membership Scheme
Save on workshop costs and enjoy a range of additional benefits by joining our yearly membership scheme
Did you know that you could sew a circuit? Come and visit us at the Shipley Art Gallery and find out how.
Discover the range of textiles within our collection before moving to our workshop to produce your own Shipley Art Gallery inspired fabric cuff or bracelet.
It isn't any normal bracelet or cuff; it lights up!
Children will find out about how electrical circuits work and what we need to make them work, before sewing their own circuit into their fabric accessory.