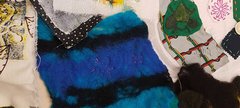 Why become a member?

The Shipley Art Gallery's Schools Membership allows your school and your teachers to benefit from a variety of our cross-curricular, interactive and creative learning programmes across the academic year.
Savings can be made by schools that subscribe to be a member. Membership entitles schools to:
Five interactive workshops at the Shipley for KS1,2,3,4 including SEN (usually £90 each)
A teacher training session for all staff on using a painting across the curriculum.
A whole school assembly on the theme of the Shipley's collections
Booking priority for our exclusive teacher exhibition previews and CPD events
Free entry into our charging shows for planning (2 tickets per school per exhibition)
A 10% discount on booking all additional workshops or in school art workshops.
School yearly membership fee £395
…………………………………………………………………………………………
Please note: workshops can be booked in at any time, and are subject to the availability of dates requested.
Contact our Learning Team to become a member today
learning@shipleyartgallery.org.uk / 0191 278 1939