KS4-5: English Language and Literature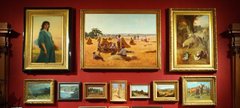 Cost: £100 for half day, £150 for full day
Workshop length:
Half day = 1-hour introductory tour + one workshop (90 mins)
Full day = 1-hour introductory tour + morning workshop (90 mins) + afternoon workshop (90 mins)
Schools Membership Scheme:
Save on workshop costs and enjoy a range of additional benefits by joining our yearly membership scheme
Learning through the Art Gallery is a two-year project funded by the Arts and Humanities Research Council (AHRC). It is led by Dr. Claudine van Hensbergen at Northumbria University, and by Anne Fountain at the Shipley Art Gallery, and the Laing Art Gallery, Newcastle upon Tyne. The funded project will run between February 2019 and December 2021, though sessions will still be bookable beyond this point, at full charge. For more information on the project please visit the project website here.
These study sessions are designed to help English pupils explore the collection and use art to enrich their understanding of language, literature and creative writing.
The workshops build on a successful pilot project run between Northumbria University and the Laing, completed in 2017 and funded by Arts Council England. We are continually developing the content of our workshops in light of exchanges with our steering group of eight local Teacher Ambassadors

Workshops are delivered collaboratively by Northumbria academic staff, postgraduate students and the Shipley's Learning Team. KS4-5 pupils will benefit from working with English scholars and professional writers as they develop their skills in an inspirational gallery setting.
Workshop topics are flexible and can be tailored to a given group's needs, and may draw on permanent displays and/or temporary exhibitions. Previous workshops have included: sessions developing close-analysis skills through comparative study of art and texts; creative written responses to art in the collections; sessions using art to develop contextual knowledge around a KS4/5 set text.
The Shipley Art Gallery opened in 1917 with a collection of 504 paintings bequeathed by local solicitor Joseph Shipley. Since then the collection has grown to include nearly 800 paintings and collections of works on paper, decorative art and contemporary craft. The Shipley's art collections were designated as being of national importance in 1998 and include local favourite, William Irving's painting The Blaydon Races. The Shipley is also home to The Henry Rothschild collection of studio ceramics. This includes work by all major makers and studios working in ceramics during the 20th century in the UK.
Northumbria University has more than 40 permanent academic staff working across English Language, Literature and Creative Writing. At Northumbria this project is led by Dr. Claudine van Hensbergen.