KS1, KS2, Art & Design, History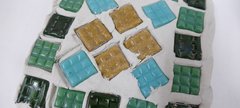 Charge: £90
Workshop Duration: 1 Hour 30 minutes
Schools Membership Scheme
Save on workshop costs and enjoy a range of additional benefits by joining our yearly membership scheme
The Shipley Art Gallery has a wide range of ceramics, from the Rothschild collection through to the small mosaics around the gallery floors.
Come and discover more about our collection, explore patterns, shape and design before heading to our art studio to make your own piece or art work to take back to school.
Guided by the facilitator students will use the Shipley Art Gallery as inspiration to design and then make their own mosaic tile.