KS2, KS3, KS4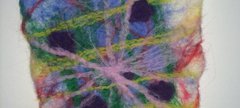 Charge: £180

Duration: full day, 10am until 2pm.
Schools Membership Scheme
Save on workshop costs and enjoy a range of additional benefits by joining our yearly membership scheme
The Shipley Art Gallery is home to a wide range of textile artworks, from Proggy, to quilting, weaving and felted work.

Spend a day with us and discover traditional textile techniques. Explore the artworks around our gallery, handle some of our extensive textile collection and create your own masterpieces in our practical sessions. Investigate felt making. Learn about the process and techniques and science behind how it works then move to our art studio to produce your own felted square.
Then have a go at sewing and create your own initialised embellished square. Thread needles, learn how to sew. Want more of a challenge? Then just let us know.
Each child will produce two textile artworks using the Shipley as inspiration.